Did you mention you love glamping? Do you dream of building a glamping site of your own? Because Ekodome, our latest THIA commercial member, could probably help you out with that! Please join us in welcoming them to the team!
Ekodome units are geodesic dome-shaped pods made of an aluminum frame and triangle-shaped panels.
The domes are weather resistant, can be used in any climate, and can easily be constructed by the consumer. Our favorite part about Ekodomes, though, is the versatility! 
Sure, these things are the ultimate glamping tents, but they also make cool greenhouses, event spaces, yoga studios, and more!
Ekodome come in a number of sizes, so you can choose the one that fits your purpose and budget.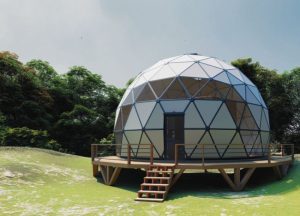 Oh, and if you decide you need more of them down the line, you can even add tunnels to connect multiple units together.
RIGHT?! They are like connector sets for adults!
OK, BRB, we're headed out to order as many as possible.
Do you want to learn more about Ekodome? They are available to connect on Facebook, Instagram, and YouTube!