Oh, sorry, did you catch us with our mouths hanging open?
Whoops.
But honestly, you're about to have the same reaction when you meet our latest THIA commercial member. 
Handcrafted Movement builds some stunning tiny homes!
We literally couldn't be more excited to have them as a member of our team!
Handcrafted tiny homes are just memorable. Maybe it's the chevron-patterned exteriors, the pillars on the front porch, the full closets, or the fact that they offer tiny houses with downstairs bedrooms.
Whatever it is, we can't get enough.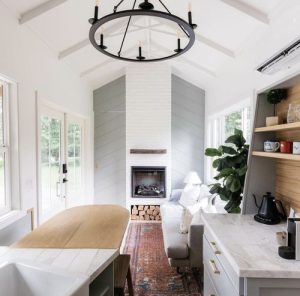 Handcrafted Movement Tiny Homes are built on Iron Eagle trailers, have standing seam metal roofs, and feature mini-split heating and air conditioning systems.
We could keep listing things, but pictures are worth a thousand words. So just go to their website and see for yourself. If you're lucky, they'll have a home available!
Do you want to learn more about Handcrafted Movement? They are available to connect on Facebook, Instagram, YouTube, and Pinterest!