Providing Care For Those In Need In Virginia Beach, Virginia
Written by Janet Thome
A beautiful family organization called One Hope Foundation has joined THIA.  The founder is Angela Adams.
One Hope Foundation is a family organization that has been around since November 2017. They serve those in need in the Hampton Roads area. They are a charity that allows community involvement to assist us by donating items to those in need. We accept all kinds of donations for care packages and household items so that we can bless others with these donations. At this time, our main purpose is to:
Provide weekly care packages that have snacks, hygiene products, clothing, blankets, etc. (weather permitting).

Prayer, praise, and worship.

Dedicated to uplifting people in crisis.

Assist with providing for those transitioning from homelessness and getting involved with other community organizations to help those that are transitioning.
One Hope Foundation is a 100% volunteer organization. They do not receive any financial gain from our work. 100% of all donations are used to reach our goal of providing for the less fortunate at no cost to them. They do not accept monetary donations at this time. Their  motto is "It takes a community to help those in need!"
The One Hope Foundation mission is to work by the "Faith of the Most High Father" and to help provide for the less fortunate.
Please be aware that they are NOT a 501(c)3 organization.
Matthew 25:34-40
Then the King will say to those on His right hand, 'Come, you blessed of My Father, inherit the kingdom prepared for you from the foundation of the world: for I was hungry and you gave Me food; I was thirsty and you gave Me drink; I was a stranger and you took Me in; I was naked and you clothed Me; I was sick and you visited Me; I was in prison and you came to Me.' Then the righteous will answer him, saying, 'Lord, when did we see you hungry and feed you, or thirsty and give you drink? When did we see you a stranger and take you in, or naked and clothe you? Or when did we see you sick, or in prison, and come to you?' And the King will answer and say to them, 'Assuredly, I say to you, inasmuch as you did it to one of the least of these My brethren, you did it to Me.' NKJV
One Hope Foundation LLC
PO Box 64822
Virginia Beach, VA 23467
(757) 718-8197
Angela Adams
angela.adams@onehopefoundationllc.com.mx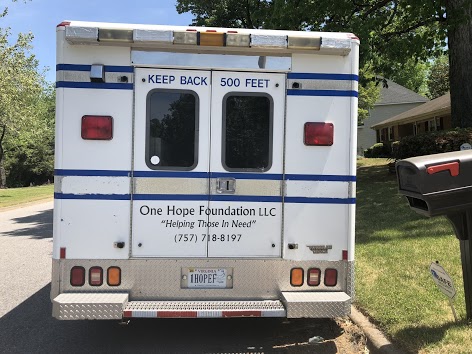 For Larger Donations
One Hope Foundation LLC
1225 Kempsville Road
Virginia Beach, VA 23464-9998