Are you shopping for a quality tiny house at a price point you can afford? How about a tiny house that is cute and can be delivered quickly? 
If that describes the tiny house you've been looking for, then look no further because that's exactly what Homestead Tiny House Co. delivers! 
And did we mention they just became a THIA commercial member? We literally couldn't be more proud to have them join the team!
If you've been trying to buy a tiny house for a while, you know that there are a lot of, er, inexperienced tiny home builders out there. Fortunately, you have now been introduced to Homestead Tiny House Co. Here's what makes them great!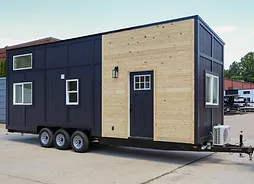 Homestead Tiny House Co. builds tiny homes that are certified. They also offer tiny home financing through Liberty Bank, and use tried-and-true materials like wood framing, closed-cell foam insulation, and metal roofs. 
We could keep talking, but honestly, you should probably stop listening to us and go check out their website so you can start falling in love with their models! 
Your tiny house dream is this close!
Do you want to learn more about Homestead Tiny House Co.? They are available to connect on Facebook, Instagram, YouTube, and TikTok!