thia welcomes high desert mini homes
After years of experience in real estate and the manufactured housing world, dynamic-duo Dina Velez and Carol Smith are bursting onto the tiny home scene! And here at THIA, we couldn't be more thrilled to announce that their company, High Desert Mini Homes, has recently joined us as a THIA commercial member! 
"tiny homes, big living"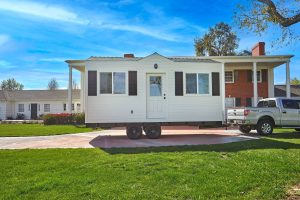 High Desert Mini Homes offer the amenities of traditional homes at a fraction of the cost and with a minimal environmental impact. If you have been looking for a beautiful home that requires far less maintenance, this could be your perfect answer! 
Not looking to live tiny yourself? No problem. But can we just say that a High Desert Mini Home could be the perfect accessory dwelling unit (ADU) or vacation rental? In our heads, we've already bought twelve of them just browsing their website!
Don't take our word for it, though! Go check out High Desert Mini Homes for yourself! They can be found on their website.