Tiny House, Big Moments
Written By Emily Gerde
When choosing a name for our tiny house journey I didn't realize how truly accurate it would be. I thought Tiny House, Big Moments was catchy and fun but I soon came to realize just how big the moments would be in our tiny house journey.
I'll start back at the beginning where it all started. We had a 2,200 square foot house and I was running an organic daycare in my basement and coaching gymnastics part time. My husband was working full time and in grad school and we had a newborn. This was the tipping point! So many jobs and no time to actually enjoy our beautiful property and home that we were working so hard to pay for. We needed a solution and the tiny house movement caught our eye as a possibility. Fast forward a few months and we found the only builder at the time in Minnesota who had already built several tiny homes and we got to see their model. We fell in love with the minimalist lifestyle and so began our journey.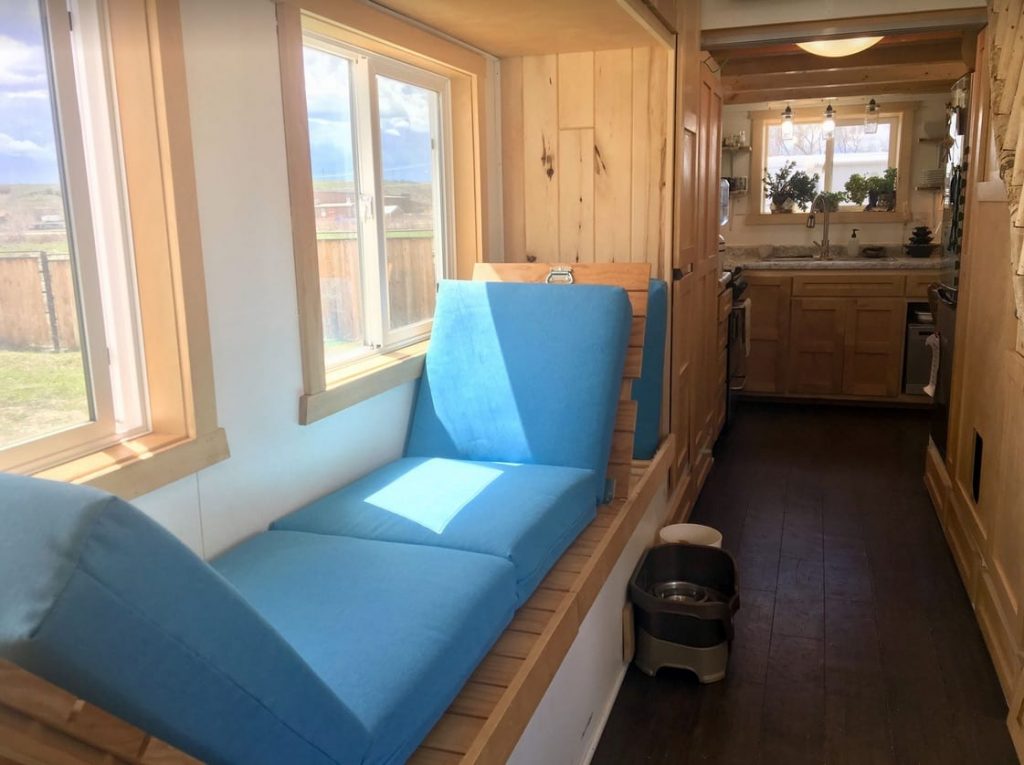 We started our tiny house build August of 2014 and moved in May of 2015. We stayed in several backyards which was fine at the time but the goal had always been to either have some land or create a tiny house community. We had some sketchy run ins with rent disagreements and people not honoring their contract but overall it was doable and affordable to live in back yards. We never had anyone call on us and never got caught. We even stayed a summer in a tiny house builders parking lot. We have friends who found great spots on farms and animal sanctuaries but we wanted to find a legal place to ease our mind after 3 years of "hiding".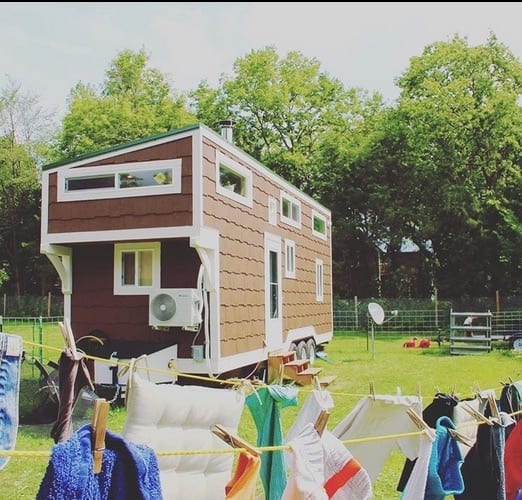 While we were searching for a more permanent spot we decided to store the tiny house and live in an RV  next to my parent's house. We were in suburbia Minnesota so we knew we couldn't hide a tiny house. Luckily, no one figured out that we lived in the RV, so we stayed in it for the winter. This was an eye opening experience on the differences between a tiny house and an RV. We had no issues with our RV for recreational use but after a week we had issue after issue. First off, it was not made for the winter and the lack of insulation created a lot of problems… including mold which we didn't figure out till later. With the cheaper materials RVs are made of, we had a ton of things break just in the few months we were in there. The air quality was awful. Luckily we were only in it for night time and spent the days in my moms house. We were very thankful living in the RV was temporary, especially with the mold and chemical smells from the nasty glues and cheap vinyl. We had a greater appreciation for our well constructed tiny house and couldn't wait to get it to Colorado.
Living next to my parents was a huge blessing because it allowed me the time to write my book, "Minimalist Living For A Maximum Life." I love sharing how we downsized and minimized clutter, toxins, stressors, and debt thanks to tiny house living. We also spent this time at my parent's place to figure out the best places to settle in Colorado. We finally found a spot come spring of 2018 and off we headed to Colorado to find adventure! We stayed at a farm, a tiny house builder's parking lot, a family's back yard, an RV park, and now a mobile home park. Moving to Colorado made me truly see the housing issues we have as a society. We were sheltered from it in the Midwest, but here in Routt County we have been in several situations that gave us much more empathy for those trying to survive and find housing.
Tiny house living has provided so many freedoms and yet there is that inherent issue of them not being legal in most areas. I started my advocacy back in Minnesota and helped a city allow tiny houses as ADUs. Then in Colorado I connected with the American Tiny House Association and presented to Jefferson County (along with Joe Callantine ) on the need for moveable tiny home communities. They were very excited about the concept and Joe took that on as his mission. Our family moved just outside of Steamboat Springs where we connected with a local tiny house developer, Michael Buccino, and have been doing what we can to help encourage tiny homes in the county. Now in Hayden, Colorado we have been able to get tiny homes allowed in mobile home park zoning (stay as long as you like), and RV parks (Maximum of 6 month stays). There is much more work to be done and I am honored to help out the Tiny House Industry Association in their mission to Make Tiny Possible.
There is much more work to be done as we work together as an industry to create a tiny house code, work with municipalities, and collaborate with builders. There is a stigma of tiny homes that municipalities are having trouble getting over. There is the "not in my backyard" mentality. Through education and the success of current tiny house communities, we can show the world how tiny houses play a role in attainable, healthy, high quality housing. Tiny houses offer the same quality materials and construction of a "regular" home in a pint size version. Be sure to support the Tiny House Industry Association by becoming a member and you can support my efforts by purchasing my book. For more insight into our journey, you can find us in all social media @tinyhousebigmoments.
May abundance flow to you with ease! May you follow your bliss, and live the life you always dreamed of.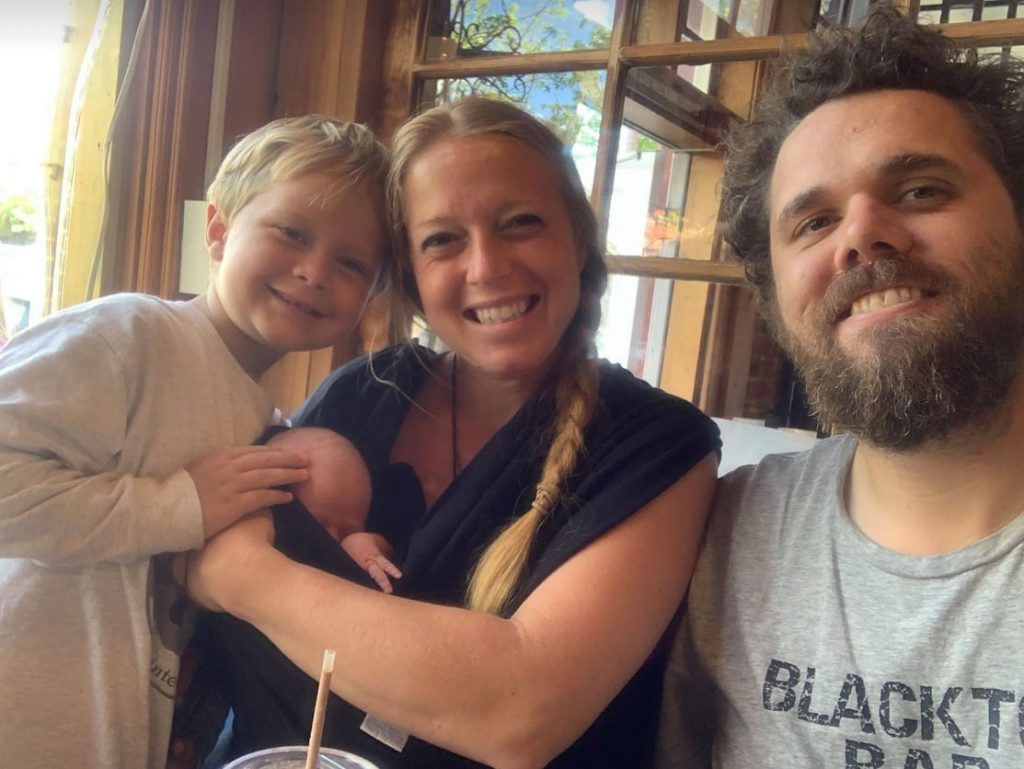 Thank you Emily for contributing to THIA's collection of What's Your Tiny Story? We would love to know yours.
Related: Cheney Creek Tiny Homes Approved In Routt County