Interactive Tiny Tour October 26th, 2019
Cedar Springs Tiny Village- the first tiny home village in Ohio is offering an interactive tour to meet their tenants, tour their tiny homes built by Cedar Spring's list of preferred builders and visit the beautiful Lakefront village on October 26th, 2019. The event will be from 9:00 am to 4:30 pm. Hors d'oeuvres provided at each site.
Gerald Brubaker has enthusiastically brought to life his vision of the "tiny" community, as the founder of Cedar Springs, with 27 sites currently established for lease.
Cedar Springs is Located in New Paris, Ohio,  centrally located within 1.5 hours of Cincinnati, Columbus, and Indianapolis, and only 40 minutes from Dayton!
Amenities Include:
Lakefront Views And Mature Trees
Walking Paths
Community Garden Access
Private Parking With Each Lot
Recycling Program
Water, Sewer, Power
Grounds keeping And Maintenance Included
Power will be paid by the tenant
Preferred Builders
Modern Tiny Living
Liberation Tiny Homes
Maverick Tiny Homes
Tiny House Life. Org
Incredible Tiny Homes
Three Steps To Go Tiny
1) Schedule a tour. They  would love to provide a personal, guided tour of the Cedar Springs Community and determine which member(s) of our builder group will be the best fit for you and your dream tiny!
2) Reserve your site/construct/relocate your tiny
Cedar Springs offers a 3-month "free" reservation of any site with a $1,000 deposit.
Whether you need a little extra time to relocate your existing tiny, or your tiny home is not quite completed, we want to ensure that you can still stake a claim on your favorite site!
If you're still looking at your funding options, check out the Financing Resource Page
3) Move in and enjoy your tiny life!
Resident Review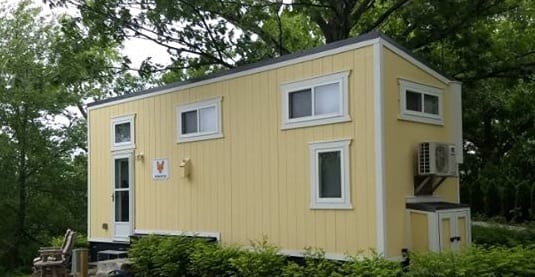 Kimberly resides in  a stunning custom 28 foot build known as "The Fox" which was created by Modern Tiny Living.
Biography – tell us a little about you!
"I have been a HGTV fan for many years. I started watching the tiny house shows, it was the very first time I have even heard of such a thing. I was hooked. I lived in a tiny apartment in Indianapolis and loved it. I just like tiny spaces, they are easier to clean, easier to decorate, and easier to move. I plan on retiring to Maine, and now I don't have to start all over. I can take my Tiny with me and know that it will be a home I love. I don't have to give up anything."
What is your favorite thing about living at Cedar Springs Tiny Village?
"My favorite thing about living at Cedar Springs Tiny Village is the surroundings. It is in a beautiful place with a beautiful view of the lake. I love all the trees and the yard is gorgeous. I really like where my house sits and even though it is in New Paris, it feels like I live in the country."
What advice would you give to a potential tiny homeowner?
"My advice it to make sure you talk to your builders so they know exactly what you want. Stick to your guns, don't let anyone talk you out of your dreams. Ask questions about everything, even the appliances. If they don't want to answer your questions, get another builder. I learned the hard way that the really cool washer/dryer combo (you see them on all the HGTV tiny shows) doesn't use heat to dry, so nothing ever gets dry. I had to buy a clothes dryer and place it on top of the really cool washer/dryer combo. The builders knew this, but since I didn't ask about it, they didn't mention it."