Washington State Tiny Home News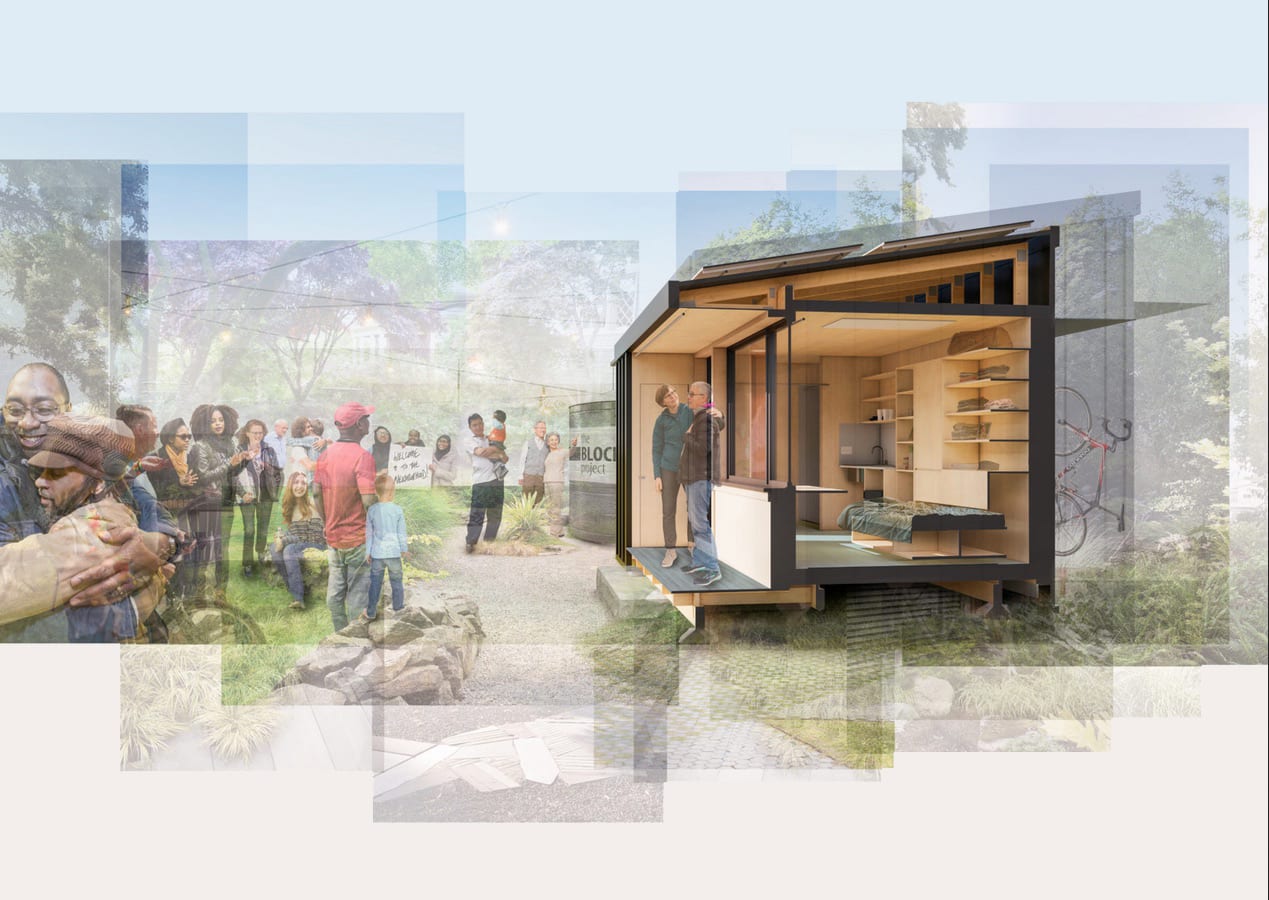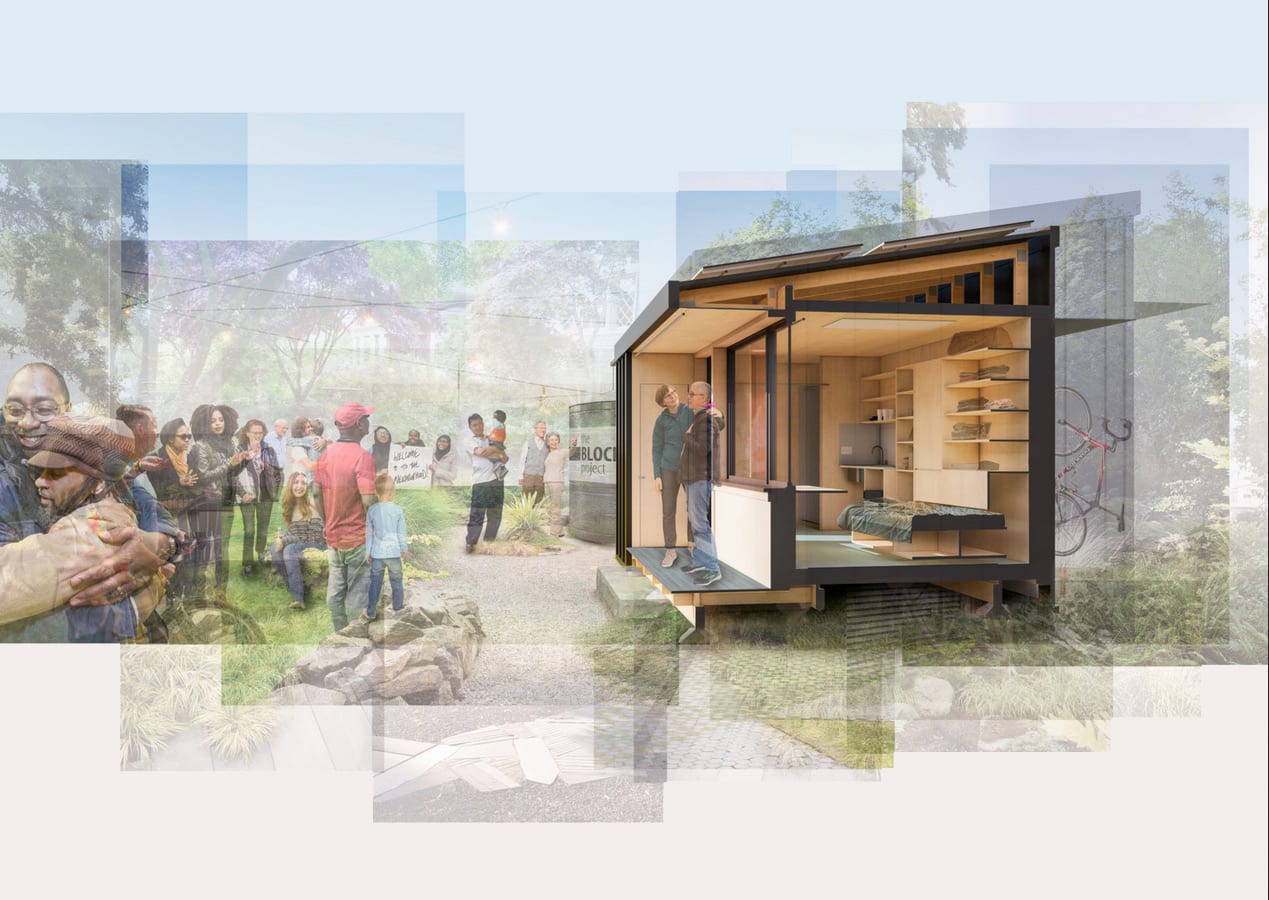 Offering some hope by allowing more tiny homes Feb. 2nd, 2020
So far, the ADU Beauty Pageant I introduced in my last column has produced a stunning display of handsome habitations and their stories. Please continue sending pictures of Kitsap's backyard cottages, basement apartments, and granny-flats to kswalthall@gmail.com. The deadline is Sunday, February 9.
One story stood out above the rest: That of Andrew Sharman, who found housing freedom in a forbidden format, the tiny home.
Renovated railhouse, 21 tiny homes heart of Fruit Valley project Jan. 29th, 2020
An 1870s-era railway switch station undergoing renovations is nearly ready for tenants, the first piece of a planned development in Fruit Valley aimed at people who have been homeless.
The building will be ready for four people by March, if all goes according to schedule, said Chris Thobaben, a founding member of local housing nonprofit Community Roots Collaborative.
It kicks off the initial phase of a larger project already in the works — one that would see 21 tiny homes transported onto the adjacent property, building an entire neighborhood in miniature on 1.5 acres.
Seattle to mull plan to expand homeless camps, streamline church involvement Jan. 20th, 2020
Seattle lawmakers are considering expanding the number of sanctioned homeless encampments, and making it easier for religious groups to set them up and run them.
A camp in the middle of of a Central District neighborhood that has been housed there for at least four years was one of the first tiny house villages ever to take root in Seattle.
The encampment now has to move, a process that some city leaders want to simplify.
At Monday's march to honor Martin Luther King Jr., residents of the tiny house village, located at 22nd Avenue and Union Street, passed out flyers seeking help.
The residents were told they have to leave within 30 days by the church that controls the land even though the camp has been there for four years.
"We are going to pack up and leave," said Bruce Gogel, who lives at the community and serves as the spokesman. "They were going to continue an outreach program for the homeless, but just basically not with us."
For the 15 people who live at the camp, they and their tiny homes have to find new land.
Puyallup eases laws, fees on tiny homes, backyard cottages, basement apartments Jan. 20th, 2020
Adding a second living space to your Puyallup property just became easier.
The city has amended regulations and reduced fees for so-called additional dwelling units. Property owners can now have two-bedroom secondary dwellings instead of only one-bedroom units, and impact fees are dropping by 80 percent, Puyallup announced Jan. 13.
Tiny homes, an apartment over a garage, backyard cottage or a basement apartment are all considered additional dwelling units, or ADUs. As housing prices rise, Mayor Julie Door said she hopes this will offer an alternative option for residents.
Article Source The News Tribune
Looking for an ADU beauty to encourage affordable housing Jan. 17th, 2020
Do you have a star in your backyard?
I'm kicking my 2020 column off with an Accessory Dwelling Unit (ADU) beauty pageant in preparation for Bremerton City Council's upcoming deliberations on loosening regulations on ADUs. I'm guessing the good people of Bremerton probably have some questions about the aesthetics of ADUs and how they'll affect the look and feel of their neighborhoods. In this case, pictures are worth a thousand words, so I'm enlisting you to help Bremerton visualize the charming potential of ADUs. Send pictures of your indomitable domicile to kswalthall@gmail.com, and our panel of judges will decide on a selection home-grown beauties to parade in our publication. If your ADU has a story, I'd love to share it. It can be as simple as friends and family getting together to build the thing, an interesting person who lived there, or your design's inspiration. Winner of the pageant gets bragging rights, free publicity, and the satisfaction of nudging our fair city in the right direction as far as affordable housing is concerned.
Will ending single-family zoning solve America's housing crisis? Jan. 14th, 2020
SALT LAKE CITY — With the cost of rent causing some people to live in cars or commute for hours to work, some cities have decided on a surprising solution: doing away with single-family zoning, long a component of the American dream.
Minneapolis and Seattle are among cities that have effectively abolished zoning that restricts neighborhoods to owner-occupied, single-family dwellings. Oregon has done so in its largest municipalities, and Californians, like residents of Salt Lake City, are now free to build small cottages, sometimes called "granny flats," for use as rentals in neighborhoods that were previously single-family only.
Seattle officials will allow controversial tiny house village to remain open, but not indefinitely Dec. 6th,  2019
In a reversal, the city of Seattle won't require the embattled Nickelsville Northlake tiny house village to shut down next week, as originally planned, giving village residents a reprieve.
In an email to city council members Thursday, Seattle's Human Services Department (HSD) Director Jason Johnson said the village would be allowed to remain on city land but didn't say for how long.
The change came after Northlake village residents had repeatedly threatened to stay at the site even after the city's original Dec. 9 deadline to vacate.
Article Source The Seattle Times
Tacoma Tent Campers Prep For Move To Tiny House Village Dec. 3rd, 2019
The plan is to relocate the people who are camping to a tiny house village that is now under construction. As more tents go up, however, neighbors aren't sure how much the effort will help. Some of the campers have lived in the park for months.
"Some people just don't leave outside of here, so this becomes their world," said Kareem Rose, who lives in one of the tents.
Creating Hope In A Village Of Tiny Homes Nov. 24th, 2019
A few days before Thanksgiving, eight guests will move into their own tiny transitional home in Hope Village on the campus of Westminster Presbyterian Church on Boulevard Road and 18th Avenue in Olympia. These new resident guests will join members of the congregation for a Thanksgiving meal that will mark a time of true thanksgiving and the beginning of community fellowship for Hope Village residents.
During their time in the village, residents will hear the story told and retold by a myriad of individuals and members of communities that collaborated over the past year to create Hope Village. As many projects do, the village began with a meeting about a year ago at Evergreen Christian Center where over 150 individuals gathered to learn more about the opportunities for faith communities to work with city governments to create tiny home villages.
Tacoma's Hilltop to get a tiny home village for the homeless. How'd that go in Olympia?  Nov. 22nd, 2019
It was a standard question, at least for these types of interviews, but this time the answer was piercing — smashing any illusion that anything less was at stake.
Sitting at a long, collapsible table inside a greenhouse-like community meeting space at Olympia's Plum Street Village, I asked 59-year-old Colin Towler where he thought he would be if it wasn't for the the tiny home community surrounding us.
Article Source The News Tribune
No construction yet, but Yakima organizers "moving" on plans to build tiny home village for the homeless  Nov. 19th, 2019
Tacoma council to vote Tuesday over a tiny house village for the homeless Nov. 18th, 2019
TACOMA, Wash. — The city of Tacoma is considering a tiny house community as they work to address their homeless crisis.
On Tuesday, the council will vote on a resolution to build a tiny home village. If the resolution passes, Tacoma will pay a Seattle non-profit $380,000 to open and operate a tiny house community for the homeless. The would start work immediately.
Move out date moves up at Seattle tiny house village Nov. 18th, 2019
SEATTLE – As one of Seattle's tiny home villages braces to shut down earlier than expected, Tacoma is getting ready to launch a similar village to house the homeless.
On Tuesday, Tacoma city council members are set vote on a $388,000 plan to help dozens of people experiencing homelessness, living out of tents in public parks. The city would team up with the Low Income Housing Institute (LIHI) to open a 22-unit tiny house village where as many as 35 people could live. It could be built on a vacant lot along Martin Luther King Junior Way.
First Federal grants support Peninsula nonprofits Nov 17th, 2019
Grants of $50,000 each went to the Composite Recycling Technology Center (CRTC) to build a model tiny home for Pennies for Quarters, a nonprofit providing assistance to homeless veterans and their families in Port Angeles, and to the Northwest Maritime Center to fund initial equipment needs for the new Port Townsend Maritime Academy Skills Center.
The model tiny home is expected to be the first of 24 to be constructed by CRTC for Pennies For Quarters.
Article Source Penisula Daily News
Puyallup mobile home park to become tiny home community Nov. 12th, 2019
An Oregon developer is converting a Puyallup mobile park into a tiny home community.
The property on Fruitland Avenue and 96th Street East has two tiny homes for sale, as the developer, Bridgeview Asset Management, builds 28 more.
"We are very excited to be providing unique tiny homes in Puyallup at a highly affordable price," Megan Wiseman with Bridgeview said.
Seattle plans to cut funding to tiny house village Nov 8th, 2019
SEATTLE (AP) — When employees from the Low-Income Housing Institute (LIHI) came to the Northlake tiny house village on Oct. 29 to tell the formerly homeless residents that their village would be closed in December, things quickly got ugly.
There was shouting. A LIHI employee called the villagers "children,'' and a villager responded with obscenities. LIHI said one of their employees was shoved. A physical tug-of-war erupted between villagers and LIHI. The villagers won and pulled a gate shut.
Seattle City Council may add millions to mayor's budget for LEAD, public toilets, tiny houses Nov. 6th, 2019
The Seattle City Council may add millions of dollars to Mayor Jenny Durkan's proposed 2020 budget to grow a jail-diversion program, buy mobile restrooms for people living on the streets and open new tiny-house villages for homeless people.
The council doesn't yet know how exactly state Initiative 976, which is leading in Tuesday's election and would slash car-tab taxes and fees, may change Seattle's budget calculus.
Durkan sent her $6.5 billion proposed budget to the council in September, including a record more than $100 million in appropriations for homeless-related services.
Letter: Langley ordinance changes encourage affordable housing without sewer Nov. 4th, 2019
Regarding the Infrastructure Bond proposed for Langley, I am writing to inform residents of recent changes in city ordinances that have provided numerous opportunities for affordable housing without extending sewers to the sensitive Edgecliff bluff area.
These new ordinances include allowing two tiny houses or two accessory dwelling units [ADUs] on every single-family lot served by sewer in Langley; one tiny house or ADU on every single-family lot served by septic; less restrictive hookup fees, and the ability to develop tiny house communities of 12 units per acre.
Article Source SouthWhidbeyRecord
This social purpose corporation builds innovative, durable tiny houses for emergency response Oct. 7th, 2019
When Amy and Brady King started experimenting with how to build durable, reusable temporary housing that would be easy to transport and assemble, they were imagining a product to assist people after natural disasters such as hurricanes and floods that usually struck far from the Northwest.
But their first big customer ended up being close to home and for an ongoing, social emergency — the Northwest's homelessness crisis.
Three years ago the Kings launched Pallet, an Everett, Wash. company that sells temporary shelters made of hard, plastic panels.
Jefferson County commissioners mull homeless plan Oct. 2nd, 2019
PORT TOWNSEND — A five-year plan to address the homeless crisis in Jefferson County has been recommended to the Jefferson County commissioners.
The three-member Board of County Commissioners has until Dec. 1 to revise or approve the plan before it's referred to the state Department of Commerce.The state-mandated document requires local governments to file a plan to be eligible for funding. The 47-page document, "Making Homelessness a Singular Occurrence," covers 2020-24 and lays the foundation for identifying not only those in need but community partners who can respond.
If it's fully implemented, the document says there should be an increase of 300 safe housing units by Dec. 31, 2024. They would include 162 apartments, 30 new Habitat for Humanity homes, 28 safe beds (16 hostel and 12 respite), 40 safe placements for seniors in 20 senior RV units, 20 tiny homes that serve at least 20 people and 20 safe beds in two host homes and multiple host families to house youth.
Article Source Peninsula Daily News
The Role of Community Land Trusts in Cascadia's Quest for Affordable Housing Sept. 25th, 2019
Unlike renters who are stuck paying whatever hike the market demands, people who own their homes can benefit from local investment. As families throughout Cascadia feel the pinch of rising housing costs, more cities of all sizes are turning to the Community Land Trust (CLT) model to extend ownership opportunities across the income spectrum.
As housing advocates have long argued, CLTs halt displacement in its tracks in two main ways: they help low-income renters become owners, and they ensure permanent affordability by limiting the price at each resale. [Some CLTs also provide affordable rentals for very low-income people who can't acquire a mortgage.] For communities under threat of displacement, CLTs can turn around a family's fate by providing not only stable, affordable housing, but also an opportunity for wealth-building otherwise out of reach.
Article Source Sightline Institute 
Cheap, practical, life-saving: Seattle should build more tiny house villages Sept. 23rd, 2019
Living in a car was dangerous, Floyd said in her testimony, and kept her in a state of constant fear and uncertainty. But at Camp Second Chance, a clean and sober encampment, "I felt self-empowered. I felt stability. I had safety," she said. At Camp Second Chance, she had the community and support she needed to get back on her feet. And last May, Floyd moved into permanent housing — her own apartment.
Seattle council-member pushes for increasing number of tiny house villages Sept 18th, 2019
Now, a Seattle City Council member is pushing to expand the number of tiny house villages allowed in the city so hundreds more people have access.
Councilmember Kshama Sawant's   expand the number of transitional interim use encampments allowed in the city from three to 40. Under the proposal, each encampment could have up to 100 people. Permits for the encampments would last for one year with the option for renewal. The limit of 40 encampments would not include transitional encampments located on property owned or controlled by a religious organization, according to the draft legislation.
Tiny homes offer people a space of their own where they can lock their belongings and have access to simple amenities. The villages have central areas with showers and bathrooms or porta-potties, and a communal kitchen area.
City staff, fire chief ask council to abandon allowing RVs as full-time homes on Bainbridge Sept. 10th, 2019
The Bainbridge city council is considering a change in its development rules that would allow recreational vehicles, or RVs, to be used as permanent, year-round homes.But while the move is meant to help alleviate the affordable housing crunch on the island, other public officials are raising safety concerns about the proposal, and warn it won't be a quick fix to the lack of lower-cost housing on the island.
Article Source Bainbridge Island Review
Tiny home village coming to Port Orchard Sept. 10th, 2019
PORT ORCHARD, Wash. — Kitsap County leaders are hoping a tiny home village in Port Orchard will lead to some big changes when it comes to homelessness in the area.
We've told you about tiny home communities popping up across western Washington before, and now there plans in the works to bring one to Port Orchard.
City of Seattle extends leases for several 'tiny house' villages Sept 8th, 2019
The City of Seattle has announced an extension of permits for several 'tiny house' villages to operate on city property.
Tiny house villages were created as part of the city's efforts to create enhanced shelters for homeless populations. Tiny houses replace tents and provide insulated, wooden sleeping structures. These villages have full-time case managers, running water and expanded kitchens.
Elizabeth Campbell fighting legislation to allow more tiny house villages around Seattle Sept 5th, 2019
Elizabeth Campbell is challenging a suite of land-use code amendments that would ease restrictions on tiny house villages and allow for their construction citywide.
The Magnolia resident is challenging the adequacy of a State Environmental Policy Act (SEPA) Determination of Non-Significance, arguing that the city failed to properly assess the impacts of allowing tiny house villages — or transitional encampments — in all parts of the city.
Article Source Queen Anne And Magnolia News
Public Comment Stage: Appendix Q Washington State August 30th, 2019
On July 31st, 2019 the Washington State Building Code Council had a TAG meeting that was open to the public. The subject for discussion was IRC Appendix Q, Tiny Houses Sleeping Lofts. The building code council presented an amended version of Appendix Q. It was announced in the meeting that the public would be allowed to comment both in person and through written testimonies.
Senate House Bill ESSB 5383 mandated that the building code council adopt building codes specific for tiny homes by Dec 31st, 2019.
Article Source Tiny Home Industry Association
Tiny Homes Could Help Solve Region's Ever-Growing Need for Affordable Housing August 30th, 2019
Sen. Hans Zeiger, R-Puyallup, led the charge in passing Senate Bill 5383, Barkis said, which recently went into effect. 
The bill allows cities and counties to permit tiny house villages and recognizes the use of tiny houses as a primary residence within mobile home communities. 
Longview mobile home co-op a model for saving low-income housing August 7th, 2019
The co-op bought the park in February for $1.2 million, financed by loans from the Washington Community Reinvestment Association and Washington State Housing Finance Commission. ROC Northwest searches for manufactured housing parks up for sale and works with residents to create a co-op and secure financing, said Miles Nowlin, cooperative development specialist.
Land-use code amendments could come before Seattle City Council this fall August 7th, 2019

The District 3 councilmember has proposed legislation that would allow up to 40 of the transitional encampments to be permitted in Seattle. It also would allow tiny house villages on all publicly owned and private property in the city on an interim basis, remove land-use permitting requirements for religious organizations to host the encampments and ease site requirements citywide.
Article Source Madison Park Times
Tiny home vs county: Effort to help homeless runs afoul of regulations August 7th, 2019
Blake has been renting Soderberg's RV space since March. Before that, he was homeless for three months. Having the opportunity to live in a tiny house has helped him get his life back on track.
Can tiny houses help solve affordability crisis? A student who's building one thinks so August 2nd, 2019
"I wanted the security of owning my own house, but this day and age, (for) my generation, owning a house isn't really realistic," she said.
Arriving at the property where she currently lives, which Tyrnauer calls an eco-village, she gives a quick tour, pointing out the chicken coop and vegetable garden. Residents collaborate on property chores and occasionally cook together.
Sections have been set up as campsites, rented out on Hipcamp, a site like Airbnb which matches property owners with people wishing to camp.
Will Washington State Adopt Appendix Q? ESSB 5383 Public Meeting July 31st, 2018
After reviewing ESSB 5383 and also speaking to Richard Brown, the Managing Director of the Washington State Building Code Council, he has been confirmed that Appendix Q has not been adopted. There is still a chance that it will be adopted, but it has been heavily amended. July 31st, 2019 is the launch of adopting Building Code Standards Specific For Tiny Houses and adopting Appendix Q as it has been amended.
Article Source Tiny Portable Cedar Cabins
Announcing: Sand Point Cottage Community July 29th, 2019
The Low Income Housing Institute (LIHI) is developing a Sand Point Cottage Community projected to open in the Spring of 2020 in Magnuson Park. This project will provide 22-25 studio and one-bedroom cottages of affordable workforce housing for families and individuals employed at low wages. The cottages will have living and sleeping areas, lofts, kitchens and bathrooms. The community will include a common building, community garden, outdoor recreation space and walking paths.
Article Source Low Institute Housing Institute
SUBSTITUTE SENATE BILL 5383 : Effective July 28th, 2019
Section One: Appendix Q Can Provide A Basis For The Standards

The legislature recognizes that the International Code Council in 2018 has issued tiny house building code standards in Appendix Q of the International Residential Code, which can provide a basis for the standards requested within this act.
Section Six
The building code council shall: Adopt Building Code Standards For Tiny Houses
(1)(a) By July 1, 2019, adopt a revised process for the review of proposed statewide amendments to the codes enumerated in RCW919.27.031;
(b) Adopt a process for the review of proposed or enacted local amendments to the codes enumerated in RCW 19.27.031 as amended and adopted by the state building code council.
(2) By December 31, 2019, adopt building code standards specific  for tiny houses.
From Olympia to Bellingham: Tiny home villages offer a path toward permanent housing June 26th, 2019
Nichols only wishes people opposed to the villages could hear and see the kindness that pours from the people who inhabit the tiny homes. In one story she shared, a woman she came to know had been homeless for 10 years until she was finally placed in a tiny dwelling. It wasn't too long later that a mother approached the gates at the tiny home village one evening with her four small children.
The mother pleaded with those at the village, " We don't have a place to be. We need a home."
The chronically homeless woman, the one who was given a safe spot to sleep, offered to again move out so the mother and her children could have a place to sleep.
Article Source Snoqualmie Record
Snohomish County center to offer trade apprenticeships to high schoolers April 20th, 2019
Students who are accepted into the program spend half their day at the center building a set of skills they can apply in the trade field after school. The program is open to students at 14 school districts.
In the construction program, students are building tiny homes for the homeless with the Low Income Housing Institute, which provided the materials.
Tiny house communities bill passes Legislature  April 12th, 2019
Article Source AWC Association of Washington Cities
Plum Street Tiny Home Village : Community Wide Effort to Help the Homeless February 19th, 2019
The tiny house village opened in February 2019, offering 29 shelters to homeless individuals previously living in tents downtown. "Once the village opened, there was an immediate impact on the downtown homeless population," says Colin DeForrest, Homeless Response Coordinator for the City of Olympia.
Anacortes code update could pave way for new housing July 24th, 2019
A new concept called cottage housing, a cluster of four to 12 single-family homes around a common space, will be allowed in all residential zones.
As Seattle cracks down on McMansions, a question lingers: Are huge homes morally wrong? July 7th, 2019
At the same time, Seattle is allowing more people to build more spacious backyard cottages, either for rentals or for family members to use, providing more modestly priced housing for people who can't afford McMortgages.
What new backyard cottage legislation means for Seattle homeowners July 18th, 2019
The old rules required homeowners in single-family zones to live onsite, preventing DADUs from being built on rental properties and making it impossible for homeowners to move out and keep their home and ADU as two rental properties.
They also required an off-street parking spot for each ADU so homeowners sans off-street parking could not rent out ADUs. Neither of these rules apply anymore. Size restrictions have also been eased to allow larger, taller DADUs.
Article Source The Seattle Times
Facing Homelessness-a local nonprofit behind The Block Project, finds a new avenue for its advocacy July 11th, 2019
Facing Homelessness—which started as a Facebook page aimed at humanizing Seattle's thousands of homeless residents by telling some of their stories, and expanded to include the BLOCK Project.
Kitsap Homes of Compassion targets local affordable housing July 8th, 2019
Kitsap Homes of Compassion (KHOC) is a nonprofit with the goal of ending homelessness in Kitsap County by creating affordable long-term housing solutions through the use of shared, leased homes.
Article Source Kitsap Daily News
Public Meeting Coming On Church's Plan To Open Tiny home Village July 8th, 2019
An Olympia church that wants to house people in tiny homes on its property will hold a public meeting on its plan later this month.
In May, Westminster Presbyterian Church on Boulevard Road Southeast announced plans to offer homeless people transitional housing. Up to 10 people would live in eight 8-foot-by-12-foot structures and share a kitchen in the southwest corner of the church property, according to plans submitted to the city of Olympia.
The meeting on the plan is scheduled for 6 p.m. July 24 at Westminster Presbyterian Church, 1925 Boulevard Road SE.
Meanwhile, the city has committed $100,000 to support tiny homes and shelters hosted by churches and nonprofits. At Westminster, the Low Income Housing Institute, which runs a city-owned tiny home village near Plum Street Southwest, would provide case management under a contract with the city.
Westminster's proposal is the first to come out of a group of faith-based organizations that has been working since last fall on ways to address homelessness.
Seattle Says Yes to the Best Rules in America for Backyard Cottages July 1st, 2019
Seattle City Council took a big step Monday toward creating a more sustainable city, voting unanimously to enact legislation that will make it easier for homeowners to build in-law suites, garage apartments, and backyard cottages—modest homes the wonks call accessory dwelling units (ADUs).
Article Source Sightline Institute
From Olympia to Bellingham: Tiny home villages offer a path toward permanent housing June 29th, 2019
The idea has become more common — in 2018 a group of 20 local Mercer Island volunteers built two tiny houses on the lawn of Mercer Island Presbyterian Church near Island Crest Way, and in 2019 the Mercer Island United Methodist Church followed with its own tiny home project. Tiny houses have been built and placed in villages emerging up and down Interstate 5. As a result, advocates say tiny house residents have found a path to not only permanent housing but toward reclaiming a sense of dignity.
For some homeless, 'a place to call home' will be in these tiny homes in Bellingham June 24th, 2019
A nonprofit that operates a homeless tent encampment in Bellingham is replacing its tents with tiny homes.
Known as Safe Haven, the encampment is in part of the What-Comm Dispatch Center's parking lot at 620 Alabama St. in the Sunnyland neighborhood. It's been on the city-owned land since April 4 and will be there through this summer.
Mediator may be brought in to help with tiny home dispute June 24th, 2019
SEATTLE — A mediator may soon play a role in the outcome of a dispute involving residents at the Othello Village who are on "strike" over who should run their tiny house village in Seattle's Rainier Valley.
One small step for tiny houses could soften Puget Sound affordability crunch June 1st, 2019
Under Senate Bill 5383, Washington cities and counties now have more flexibility to authorize tiny house developments. Local governments are prohibited from adopting ordinances that would ban tiny houses from being used as primary residences in a manufactured/ mobile home community. And landlord-tenant law protections apply to residents of tiny house projects.
Housing Crisis Has Seattle Weighing End Of Single Family Dwelling May 19th, 2019
n an effort to address the issue, Mayor Jenny Durkan, a Democrat, signed a Mandatory Housing Affordability policy into law in March that would change zoning rules in 27 neighborhoods. The policy is expected to generate 6,000 new homes over the next decade.
From Philadelphia to Portland, housing advocates all over the U.S. have gained momentum in their push to reduce single-family neighborhoods. In December, Minneapolis became the first major U.S. city to eliminate single-family zoning altogether, voting to allow for complexes with up to three dwelling units in all of its neighborhoods. In California, a large piece of housing legislation reducing single-family zoning across the state has made progress through the state Senate.
Governor Jay Inslee legalizes Tiny Houses and Tiny Houses with Wheels May 9th, 2019
Tiny House Law: Washington State
An  act relation  to tiny houses; amending RCW 58.17.040,135.21.684, 43.22.450, 19.27.035, and 35.21.278; adding a new section2to chapter 35.21 RCW; and creating a new section
Tiny Home Notion: Legislators, advocates for affordable housing see benefits of growing market
The bill, sponsored by Sen. Hans Zeiger, R-Puyallup, and passed by both the House and Senate, has been sent to the governor's office.
"We are waiting for Gov. Inslee to sign off on it any day now," said Todd McKellips, executive director of the Washington Tiny House Association, a nonprofit organization that advocates for tiny house legalization.
Tiny House Law: Washington State
Article Source The Spokesman- Review
Washington Just Advanced the Nation's Best ADU Reform. Here's Why It'll Help February 28th, 2019
Granny flats and backyard cottages keep families together, save old homes, and let seniors age in place.
It's a new life that lets multi-generational families live together, seniors age in place, and owners on fixed incomes stay in their homes. Tucked into or alongside existing houses, these small homes—collectively termed accessory dwelling units (ADUs)—can meet evolving household needs and help families of all kinds find greater housing security.
Article Source Sightline Institute
Legislature Paves the Way for Tiny Houses
Directs adoption of building code standards for tiny houses May 2nd, 2019
In 2018, the International Code Council issued tiny house building standards in Appendix Q of the International Residential Code (IRC). ESSB 5383 directs the State Building Council to adopt standards specific to tiny houses by December 31, 2019. The legislature expects the newly-issued IRC guidance to become the basis for these standards. Local governments, in turn, can amend their building codes to include these new provisions.
Also, just last year the state legislature passed a bill authorizing local governments to adopt regulations eliminating any minimum gross floor area requirements for single-family dwellings (See HB 1085).
Includes prefabricated tiny houses in definition of factory-built housing
The bill expands the definition of factory-built housing in RCW 43.22.450 to include tiny houses and tiny houses with wheels, thereby incorporating prefabricated tiny houses into the L&I certification process for factory-built housing.
Creates a regulatory pathway for permitting tiny house communities May 14th, 2019
Currently RCW 58.17.040(5) allows the use of a binding site plan:
The Block Project: Seattle Backyards Needed June 8th, 2019
The Block Project and Rex Hohlbein, the founder of Facing Homelessness is on a mission to end homelessness one tiny home at a time. More backyards needs. Can you Say Yes In My Backyard.
Facing Homelessness connects a name, their face and tells the story of each person, without judgement. Rex shares their hopes and dreams and immediate needs and so gently asks for a tent, a camera, a hotel stay, a dentist, paint supplies or whatever the person is in need of. I read every story, donate when I can, share and always cry at the beauty of the real humanity that I know we are.
Rex Is Teaching Us To Say Hello And  Not Look Away
Through its integrated design, this project will not only offer opportunities for healing and advancement to those formerly living on the fringes of society, but it will also bring connection, relationship, and compassion to the center of our lives and communities.
Do You Ever Say Someone Needs To Do Something And Realize That Someone Is You?
Article Source Tiny Portable Cedar Cabins
Soap Lake, Wa Has Become Very Tiny Home Friendly July 24th, 2019
In 2016, the city council of Soap Lake, Wa. adopted chapter 17.25 into the Soap Lake Municipal Code to encourage single units and clusters of tiny homes on city lots in Soap Lake. The minimum requirement is 200 square feet and the maximum requirement is 1000 square feet. At this time, wheels need to be taken off, but they are very open to changes and willing to have an open conversation to make it work for everyone.
Note: Updated on May 29th, 2019: The requirement  for having the wheels removed will be amended because of the law the governor signed., Senate Bill 53883  Click Here.
Article Source Tiny Portable Cedar Cabins
Tiny Home Fire: No Insurance June 13th, 2019
Propane Refrigerator Caught On Fire
In June the family installed a propane refrigerator to provide fresh food in their recent off grid lifestyle. The first refrigerator had an immediate problem. After Renna carefully installed the refrigerator and went to light it, the refrigerator caught fire. Luckily Renna put the fire out and called Amazon to return the unit.
Days later a new new refrigerator was sent and it was installed and lit successfully. Renna watched the refrigerator closely for 24 hours. Luckily no one was home, when there was an explosion the next day that burnt the family's home to the ground.
Wrong Information On Insurance
"Not only was this a 25,000 investment they made with nearly everything they had, it was not insured because of tiny house legislation that restricts these units from being considered houses. This does not account for the months of labor and love the entire community put into building it." ( Homeowners quote )
Once homeless and helpless, woman now helps build 'tiny homes' for others like her June 16th, 2018
She was with a group of other women, laughing and joking together as they set up walls, hammered in nails, framed doorways and painted houses for the city's unique "Women4Women" project.
Tacoma Adopts Exemplary Reform for In-Law Apartments March 20th, 2019
Tacoma has joined the growing list of Cascadian cities taking action to welcome more in-law apartments and backyard cottages into their residential neighborhoods. On Tuesday, the Tacoma city council adopted a liberalized set of rules for accessory dwelling units (ADUs). Tacoma got a lot right with its ADU reform, but there's still room for improvement.