Effective Date: Feb. 2021
Written by Janet Thome
Washington state has adopted  Appendix Q Tiny House, with amendments. The effective date is Feb. 2021. Appendix Q Tiny House was adopted into the 2018 International Residential Code ( IRC ) building code to provide regulations and standards for tiny homes on a foundation that is 400 square feet or less.
Note: The effective date has been changed several times and does match the effective date on amendments page.
Attention is specifically paid to features such as compact stairs, including handrails and headroom, ladders, reduced ceiling heights in lofts and guard and emergency escape and rescue opening requirements of lofts.
The International Residential Code is a comprehensive, stand-alone residential code that creates minimum regulations for one-and two-family dwellings of three stories or less.
Tiny House Bill 5383
Tiny House Bill 5383, which became effective on July 28th, 2019  defines tiny hames and mandated that the building code council write building codes for tiny homes. Washington state has adopted Appendix Q Tiny Houses which relates to tiny homes on a foundation.
Tiny Homes On Wheels
Tiny homes on wheels will go through the Modular inspection and approval process with L & i. This includes out of state manufacturers that sell to a consumer in Washington state.
Tiny Home Definition: Section Five HB 5383
"Tiny house" and "tiny house with wheels" means a dwelling to be used as permanent housing with permanent provisions for living, sleeping, eating, cooking, and sanitation built in accordance with the state building code.
Washington state does not use 3rd party inspection agencies to inspect and certify. Please refer to the Washington State Department Of Labor Of Industries ( L& I ) for the inspection and the approval process.
L & I Has Reciprocal Agreements  States For Inspections
L & I has reciprocal agreements with Idaho and Oregon, where they inspect modular buildings built in Washington to their plans, and those states do the same in their states for their plans.
Please contact L & I, if you are building in another state besides Idaho and Oregon, to discuss the process for approval and inspection. It will require for L & I to travel to your location for inspection.
Washington State Department Of Labor And Industries: Attention Washington Residents
The Following Sourced From The Washington State Department Of Labor And Industries' Website
A tiny house is a dwelling that may be built on wheels and is no larger than 400 square feet, including a kitchen, bathroom, and sleeping/living area, and must be built to the Washington State Building Code. The approval process for a tiny house depends on where it's built.
On this page, you can determine whether you need the approval of construction plans and inspections from L&I or the local building department where the house is being built.
If you're building a tiny house somewhere OTHER than where it will be occupied and used, then see the Building a Tiny House tab.
Labor & Industries Tiny Houses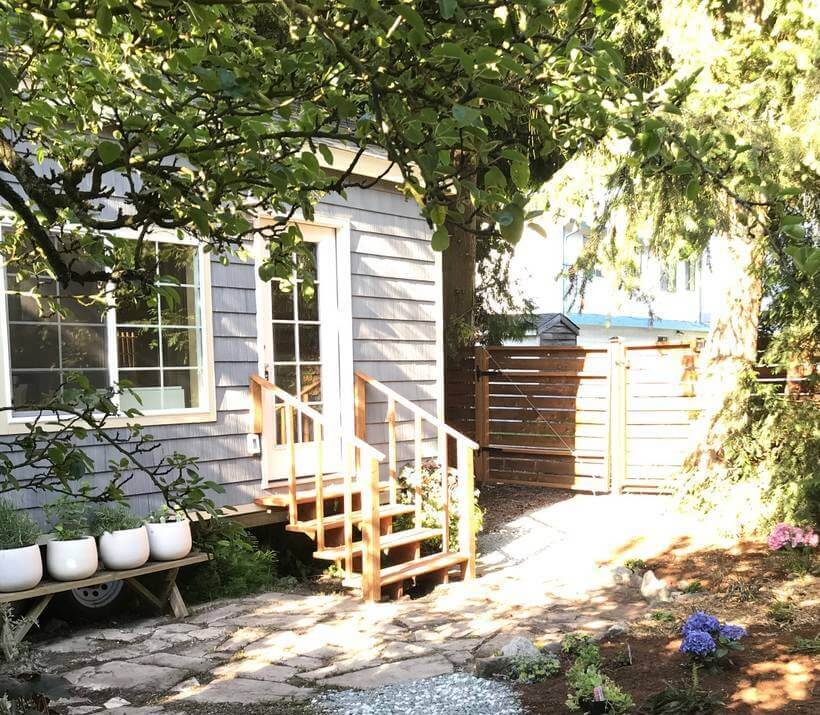 Photo Credits: Carriage Houses NW: Washington State Builder
Carriage Houses NW  is licensed as a Factory Assembled Structure Manufacturer of travel trailers and park model RVs. That means our models are structurally engineered and meet rigorous safety and build standards. They leave our facility with the Washington State Department of Labor & Industry's RV insignia.