Virginia Tiny Home News
Virginia Update On Appendix Q: Dec. 16th, 2019 Public Meeting:
The Board is scheduled to take action on the proposed regulations on December 16, this includes the incorporation of Appendix Q. The proposed phase is part of a 2 phase regulatory process in Virginia; all of the approved and adopted code changes from the proposed (currently underway) and final phase will become effective some time after the end of the final phase. This will likely will not be until some time in 2021.
Below is a link to all of the meetings for the day.
Kyle T. Flanders
Senior Policy Analyst
Virginia Department of Housing and Community Development
Policy Office
600 E. Main St. Suite 300
Richmond, VA 23219
phone: (804) 786-6761
fax: (804) 371-3090
kyle.flanders@dhcd.virginia.go
The Virginia  2018 Code Development Cycle is currently underway. Sept 13th, 2019
All 2018 code cycle information is available on cdpVA
Contacts bco@dhcd.virginia.gov
Sept 13th, 2019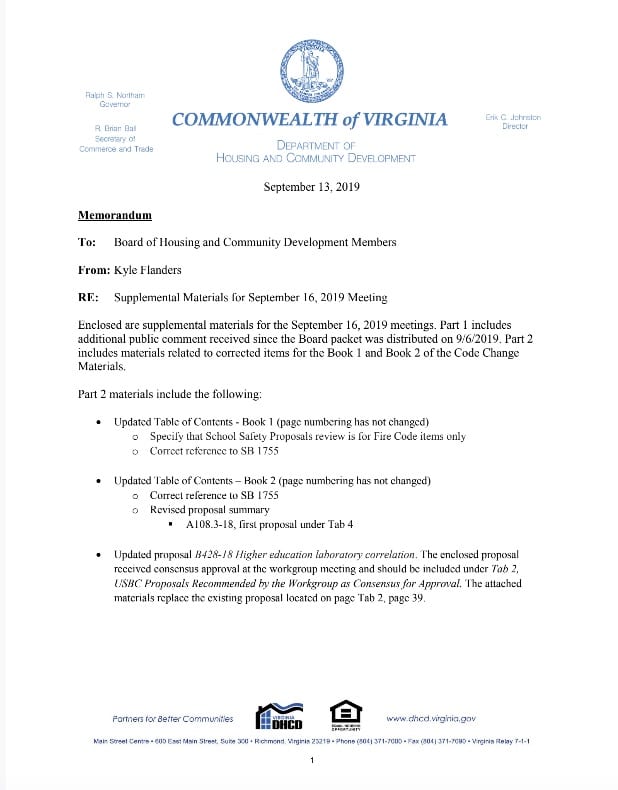 Housing in Brief: HQ2 Real-Estate Boom in Northern Virginia Fueled By Speculators August 30th, 2019
Part of the problem is a lack of housing affordability. The other part, CBS said, is the growing wage gap between teachers and other professionals. The left-leaning Economic Policy Institute found last year that teachers earn 5 percent less than they did in 2009, when adjusted for inflation, and 11 percent less than other college-educated workers.
Virginia Is Set To Adopt IRC Appendix Q Tiny House With Zero Opposition August 23rd, 2019
Virginia must clear one more round of approvals, but is anticipated to sail through with no issues.
They would follow in California's adoption footsteps: making the Appendix Q apart of state building code, and therefore mandatory throughout the state.
 Virginia approved the proposed
IRC 2021 Appendix Q Editions 
The editions were developed in collaboration with Dan Fitzpatrick, Director of Government Relations for ATHA and THIA and advocates as a united effort with ATHA and THIA.
The 2021 Appendix Q editions seek to improve requirements for ceiling heights and landing platforms, both related to sleeping lofts. More to come on this!
" Our proposal for inclusion of Appendix Q for Tiny Homes moves forward with full support of DHCD and all in attendance at today's meeting. This has been a 6 year effort that finally flew right across the finish line… WHEW ! "
Thom Stanton President of THIA and Virginia Chapter Leader of ATHA
Just how eco-friendly are tiny homes? Very, according to new research August 6th, 2019
Tiny house proponents have long lauded the compact dwellings as an environmental savior. The smaller the home, the smaller the footprint, right? That argument has helped boost the popularity of tiny homes, but until now, there wasn't much in the way of actual research on the topic.
Maria Saxton, a PhD Candidate in environmental planning and design at Virginia Tech, spent a year studying the environmental impact of people who moved into tiny homes, and she found that most tiny home dwellers reduced their energy consumption by 45 percent upon downsizing.
To glamp or not to glamp: County denies zoning changes July 18th, 2019
Essentially, he (or another applicant) would partner with a local landowner, business or agritourism operation and enter into a contract for a period of years where an upscale "tiny home" or other such recreational vehicle would be located on site. It would require water and septic connections, as well as power. While he didn't have any specific sites or projects in the works, he first needed definitions in the ordinance to reflect what he is hoping to do. Any proposed camps, campgrounds and recreational vehicle parks still would require special-use permits.
Article Source Orange County Review
Floyd Energy Fest: Featuring Thom Stanton and Dr. Maria Saxton July 13th, 2019
Join members of the area's Floyd Tiny Home Innovators for tours of their hand-crafted creations, an open forum of tiny living seminars, and live Q&A discussions. Floyd's notable tiny home designers, builders, and nationally recognized industry leaders. Thom Stanton is the President of THIA and Dr. Maria Stanton is a board member of THIA.
Article Source Tiny Home Industry Association Blog
Three Deaf Business Owners Are Building A Tiny House Resort in West Virginia April 16th, 2019
While much of the resort is still in the works, the group has already secured 22 acres of forest next to Lost River State Park. Harrington has already constructed one tiny house, which is on-site and available for rental, and they've received zoning approval for another three.
'Deaf-centric' tiny house retreat will be open to all April 18th, 2019
A tiny house resort with an added twist is coming soon.
The retreat in Lost River, West Virginia, is the brainchild of three Gallaudet University graduates, and will be "deaf-centric" while being open to all.
"We want to make sure it's run, built and owned by deaf people," said co-founder Jane Jonas, through an interpreter. At the same time, "The whole point is we want to encourage hearing people to get a chance to come, (for) anyone to join our community and see what it's like," she said.
First tiny house in Virginia sits in Winchester April 9th, 2019
She says her tiny house, known as the Bird's Nest for a small barn-swallow nest perched inside the first room, was the first in Virginia. And it's not just the physical footprint of the house that's small, it's the ecological footprint as well.
CORRECTING THE RECORD: You Can Park a Tiny Home Anywhere in Virginia Beach
A tiny house could be legally placed in any district that's zoned for a single-family residence. Some areas in Virginia Beach allow for multiple single family homes to be built on one lot, like a duplex. However, even if a builder had the physical space for 50 homes on one lot, they can only place as many houses on the lot as the zoning rules allow.
New tiny houses cause concern in rural Loudoun Co, Virginia March 8th, 2019
HILLSBORO, Va. — The Blue Ridge Mountains provide a majestic backdrop to the drive along busy Route 9 in western Loudoun County, Va. Farms and vineyards are common sights.
But there is a strange sight on a hill: seven tiny houses all in a row. They've sprung up over the past year about 2.5 miles west of the Town of Hillsboro and they're causing concern.
The Tiny House World: State Of The Union Written By Thom Stanton January 2019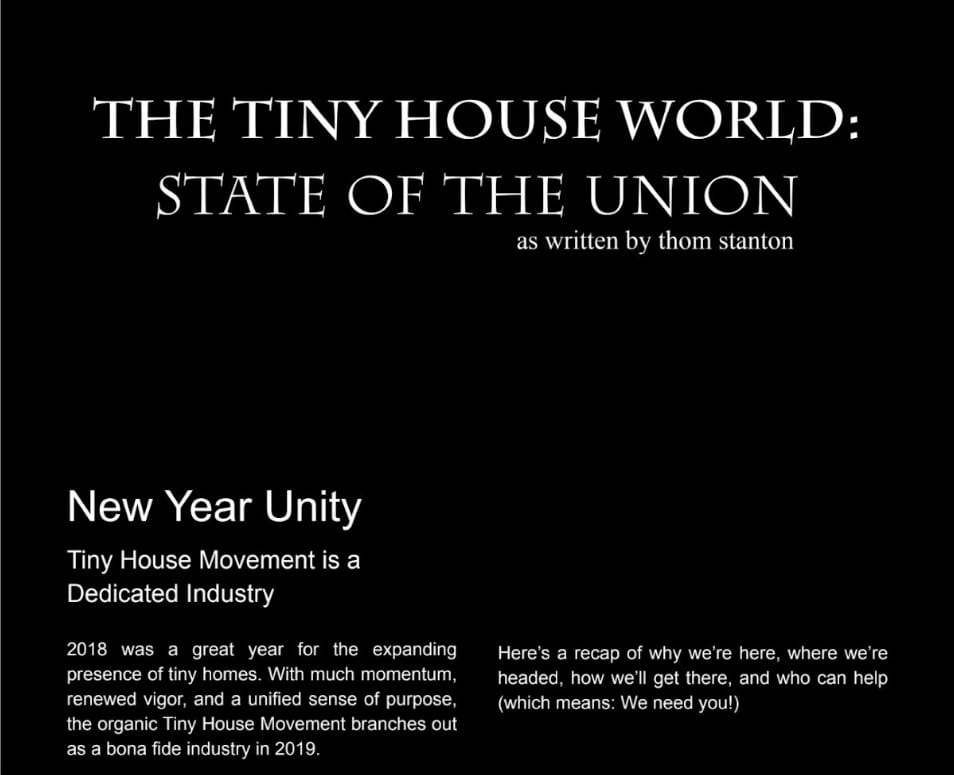 New Year Unity: The Tiny House Movement Is A Dedicated Industry
2018 was a great year for the expanding presence of tiny homes. With such momentum, renewed vigor, and a united purpose, the organic tiny house movement branches out as a bona fide industry in 2019.
Here's a recap of why we are here, where we are headed, how we will get there and who can help ( which means: We need you! )
Why We're Here: ​
Tiny Homes Meet Needs Why go tiny? Well… we remain in a housing crisis, energy costs are on the rise, career paths change, natural disasters are cranking up the heat, and myriad economic factors leave many house-less in the wake of family crisis and personal financial hardship.Aesthetic interests and economies of small spaces aside, tiny houses fill voids where critical needs meet permissible use in these areas:
Aesthetic interests and economies of small spaces aside, tiny houses fill voids where critical needs meet permissible use in these areas:
Tiny Home Magazine Article – 190101 State of Our Tiny Union
Tiny homes in Fauquier? It's a little complicated July 18th, 2018
Fauquier ready for tiny homes 
At his office in Warrenton, Building Official Jeff Morrow has written a special pamphlet just for those interested in tiny homes titled, "Building codes affecting the permitting of TINY HOUSES." 
Among other things, it instructs that tiny homes of just 88 square feet are legal according to the 2015 International Residential Code. That would include a living area/kitchen of at least 70 square feet and a bathroom of 18 square feet.  
The rest of the document lists nine standards the build must meet. Minimum ceiling height, for example, must be 7 feet. And as long as there is 7 feet of standing room under a loft, one can sleep in the loft, although it must "comply with minimum opening dimensions" for emergency escape and rescue. 
Tour of Craft & Sprout Tiny House at DC/VA Tiny House Festival June 17th, 2018
Tour of 24′ tiny house on wheels by builder, Craft & Sprout at the DC/VA Tiny House Festival.
Two Harvard guys based their million-dollar business on a whole lot of nothing Nov 23rd, 2019
They built a back-to-nature "tiny house" business called Getaway that's all about locking up the iPhone (literally), heading into the woods, communing with black bears and (if that does it for you) decompressing.
"It's supposed to be about doing nothing," Davis said.
There is no WiFi. And cell coverage is spotty at their hotel rooms in the woods.
Sounds kind of granola, I know. But Getaway is grossing more than $1 million a year, and the guys are cash-flow positive.
Last year, they persuaded a venture capital fund specializing in quality-of-life companies called L Catterton to plow $15 million into the Davis & Staff idea of how to tune out the noise and lower your blood pressure.
Article Source The Washington Post
A Firm Foundation For Tiny House Building Codes 3/22/2016
Tomorrow I will attend the first of two meetings to make and review proposals to Virginia's Statewide Uniform Building Code.
A Bit of Background
The state's building code borrows heavily from the most recent edition of the IBC (IRC 2015), though code proposals from Virginia are often used as precedent for introduction of future editions of the IRC. Tomorrow's meeting covers the first chapter, which doesn't seem to have anything of import to legalization of tiny houses (Scope and Administration).
Supporting Tiny Houses Interests During Virginia's Code Change Process 3/9/2016
VBCOA Committee Chairs:
Thank you in advance for your review, replies, and assistance in guiding us through the process of consideration of tiny houses in Virginia.
I have summarized my message below into four areas to outline our existing efforts, challenges we collectively face, to request guidance, and offer a connecting with knowledge leaders and subject matter experts who can aid in the process of evaluation of tiny houses in Virginia. Your help navigating the process is greatly appreciated.
Tiny house, big lessons March 6th, 2019
As the Rollins campus expands, one course is teaching students how to downsize.
To learn more about minimalist living, students in "Applied Design Solutions: Tiny Art Houses" are building a tiny house near the shore of Lake Virginia. The structure is aptly named, with the house being about 8 feet by 12 feet, which is roughly the size of a study room in the Olin Library.
The 300-level rFLA course is taught by Joshua Almond, associate professor of art, as a part of a sustainability collaboration with other faculty members. He chose tiny houses as a way to show how sustainability can be applied in real life.
Thom Stanton Appointed as State Chapter Leader of the American Tiny House Association 3/25/15
Timber Trails' CEO, Thom Stanton, is now State Chapter Leader (Virginia) for the American Tiny House Association. Thom will continue making inroads with local and state municipalities for making the accessibility of affordable housing more available by rethinking the requirements for and parameters surrounding small living structures. "Through a concerted effort, we hope to legalize the construction and habitation of smaller domiciles, including ADUs (accessory dwelling units), EDUs (efficiency dwelling units), and tiny houses on wheels (THOWs) currently deemed uninhabitable due to ever-increasing minimal code standards.