Tiny Topanga Joins THIA!
Guess who joined us as a THIA commercial member?
That's right- Tiny Topanga! 
Here's why we're excited about this: they are a family-run company that builds both tiny houses and conversion vans.
The idea for the company came about in stages. After getting married in 2015, Israel and Rebecca made a second commitment: that they would dedicate themselves to living a minimalist lifestyle.  
From there, the vision grew, and these days, the couple is sharing it with the world.  How? By turning around some of the finest small-space living options out there! Whether you are looking to live in a tiny house on wheels or hit the road in the conversion van of your dreams, this family has you covered.
A Family Affair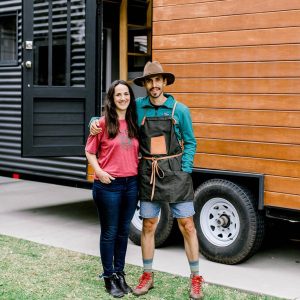 Oh, and speaking of family- Tiny Topanga is a whole family affair now! Everyone from Israel's dad (Manuel) to his brother (Alejandro) is a participant. Even little Leonardo gets in on the fun!
So, if you were looking for a personal experience of going tiny, look no further than Tiny Topanga. We promise that their loyalty is only matched by their attention to detail. 
Are you interested in learning more? Tiny Topanga is available to connect on Instagram and YouTube!