If you love tiny homes and live near Tennessee, you have to meet our latest THIA commercial member, Providence Tiny Homes! Please join us in welcoming them to the team!
Providence Tiny Homes is a veteran-owned company whose motto is family building houses for families.
So where did these tiny home builders in Tennessee get their skills? Well, president and co-founder Dan learned the construction trade by working with one of the nation's largest construction companies building subdivisions.  From there, he developed a passion for building custom homes.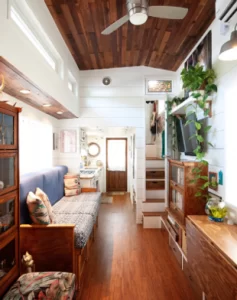 When you're a tiny home buyer, you likely have the tiny house lifestyle front and center in your mind. And one thing we love about Providence Tiny Homes is how their team keeps the tiny house lifestyle at the heart of what they do. 
So if you want a tiny house built by an experienced builder who cares, a call to Providence Tiny Homes could be the best call you ever make.
Do you want to learn more about Providence Tiny Homes? They are available to connect on Facebook, Instagram, LinkedIn, and Pinterest!