Operation Tiny Home
Written By Janet Thome
Operation Tiny Home has a down payment assistance program to help those that are eligible and are in need of housing. The down payment is often the biggest hurdle that someone is faced with in planning a tiny home purchase.
First Step
The first step in applying for a down payment assistance grant is to contact an Operation Tiny Home professional build partner. You will work together with your builder to discuss your specific tiny home living needs and obtain pre-approval for a bank loan.
Once you have been pre-approved for your loan and your builder has determined that you are eligible for down payment assistance, your builder will contact us to request that we send you a grant invitation from Operation Tiny Home.
To get started please contact one of our Operation Tiny Home build partners: Tumbleweed Tiny Homes, Cornerstone Tiny Homes, California Tiny House, Tiny Mountain Houses, Tiny Idahomes, Far Out Tiny Homes, Liberty Cabins, Hummingbird Tiny Housing, Tiny Portable Cedar Cabins, Core Housing Solutions, or TruForm Tiny.
If you are interested in working with another builder that is not listed above, please ask your builder contact Operation Tiny Home.
Who Will Qualify?
The process consists of an application, background check and phone interview. Operation Tiny Home considers applicants without regard to race, religious preference, gender, handicap, familial status or national origin.
Criteria Needed To Qualify

You must be pre-qualified for financing and working with an Operation Tiny Home approved professional tiny home builder

The purchased tiny home must be your primary residence;

You must be a US citizen or permanent resident;

You must have a verifiable long-term legal location secured to build or place your tiny home
Who Can Apply:
The applicant must demonstrate that they are in need of housing and fit the following criteria:

Community Heroes:
Military and Veterans

Law Enforcement

Fire Fighters

Emergency Medical Personnel

Pre-K – 12th Grade Teachers
And/Or
People Struggling with Hardship:
You Live In An Area That Was Affected By A Hurricane, Wildfire, Or Any Other Natural Disaster;

Illness;

Aging Out Of Foster Care;

Disability;

Surviving Spouse Of A Military Member Or Public Protector.
Application Process:
Once we receive your application we will review your information and contact you within 14 business days.  You may be asked to provide additional information (including, but not limited to the following):
Proof of Identity

Proof of Military Service

Proof of Disability

Signed Authorization to Release Information
Steps To Become An Approved Builder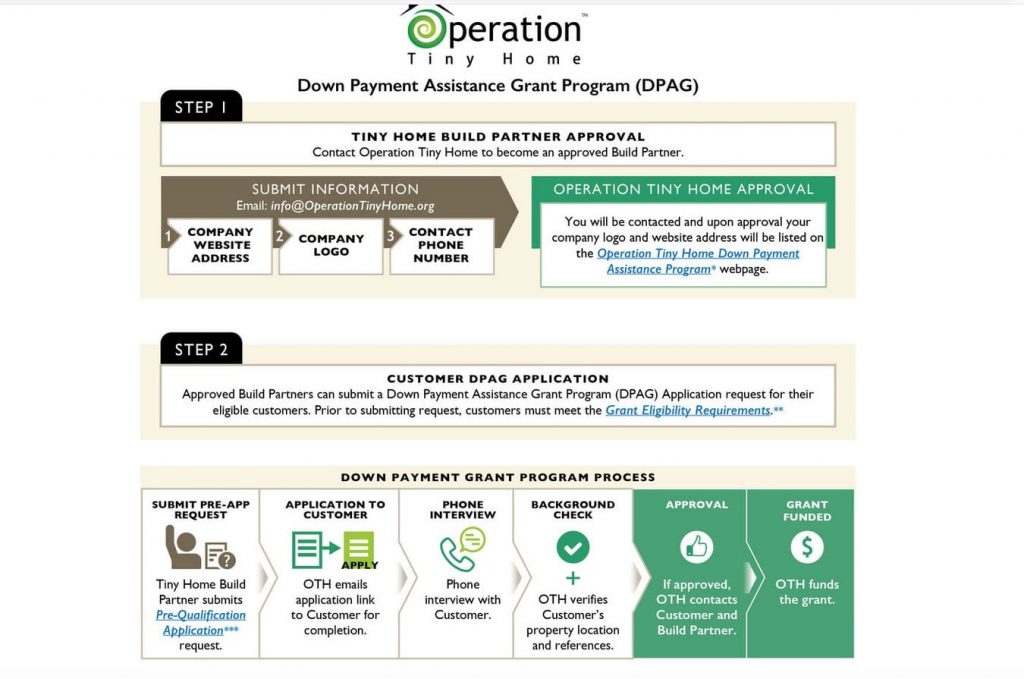 Become A Tiny Home Builder Partner With Operation Tiny Home
Become A Sponsor Of Operation Tiny Home  Welcome Home Down Payment Assistance Grant Program? Learn More Here!
Gabrielle Rapport
Gabrielle Rapport is the Founder and Executive Director of Operation Tiny Home, a national nonprofit that assists people struggling with severe housing instability to maintain a life with dignity through custom, high-quality tiny housing solutions, and empowerment training programs.

Operation Tiny Home is a 501(c)(3) national nonprofit that assists people struggling with severe housing instability to maintain a life with dignity through custom high-quality tiny housing solutions and empowerment training programs. We are grateful to our rapidly growing base of volunteers and many partners including Milwaukee Tool, Wells Fargo Foundation, Home Depot Foundation, AT&T Foundation, Sutter Home Family Vineyards, and many others.
Additional National Operation Tiny Home Programs Include:
Building A Better Future for Veterans – Tiny Home Building Workshops,
Dignity Housing for Native Americans and Alaskan Natives,
Tool Distribution for Tiny Housing Community Development and Empowerment Training Initiatives,
Disaster Relief – Tiny Homes to Support Rebuild Efforts