New York Tiny Home News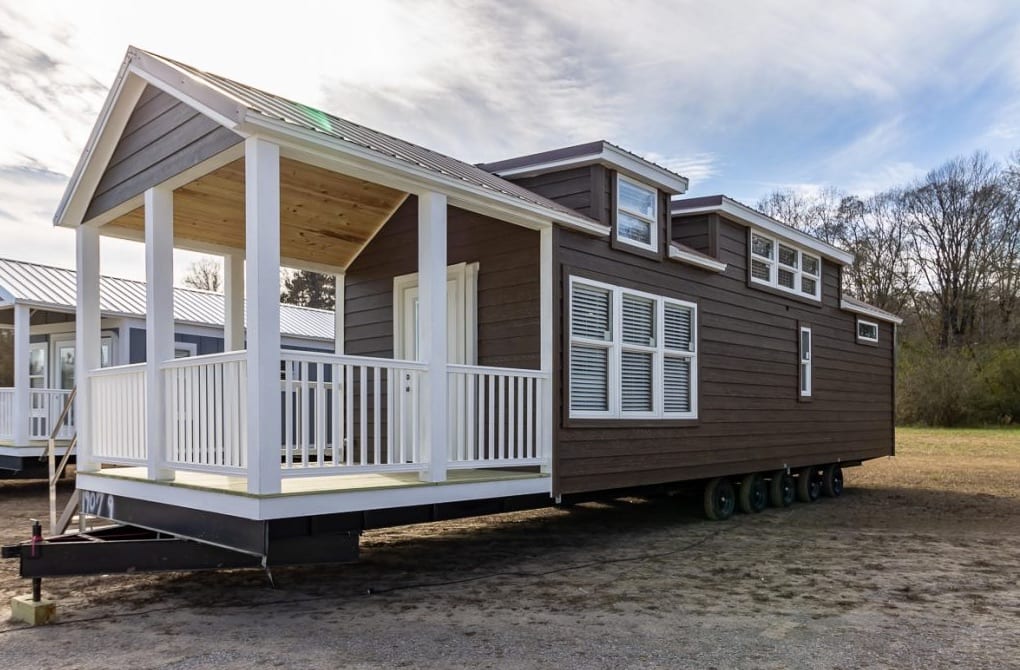 Photo Stone Canyon Upstate Tiny Homes
Yes, in my backyard: Easthampton startup builds its first mini home  Dec. 15th, 2019
Building a tiny backyard home depends on the zoning bylaws of each community. In Easthampton and Northampton (where Lee is working with a client to create what will be the company's second backyard home), the zoning allows for mini homes. But in communities such as Southampton, Hadley, Chester and Monson, they aren't allowed.
Lee said there are several other communities in western Massachusetts that allow backyard mini home projects, including Amherst, Greenfield, Palmer and Plainfield. Each town's and city's zoning is unique, and part of the Backyard ADU's work is to navigate municipal zoning bylaws and gain the necessary permits to move projects forward.
Tesla Cybertruck to become New York man's power source for tiny home Dec. 4th, 2019
A New York man plans to use the Tesla Cybertruck as a power source for his "tiny home." Karl Gesslein, a resident of Ithaca placed an order for the Cybertruck the day of the unveiling after realizing that Tesla's initial attempt at a pickup truck was exactly what he had been looking for since his childhood.
The idea came from his desire to power his new house in a sustainable way, and by using the $50,000 Dual Motor variant of the Tesla Cybertruck, he will no longer need to use portable batteries as his primary power source.
"I watched the Cybertruck reveal and knew I had to have one because it was everything I had always wanted in a car but never been able to have," Gesslein said. His interest in the Cybertruck came from his childhood dreams of owning cars like the Lotus Espirit and the Delorian DMC-12. But the most appealing thing about the vehicle was its capability to power his house, especially with the help of the "Vault's" optional solar panel cover.
Tusten thinks big and tiny Nov. 27th, 2019
"I personally don't see why the state gets to determine what size a home should be," said Wingert. Crowley replied that the 500-square-foot figure was developed decades ago, long before today's compact HVAC systems, small appliances and space-saving furniture had become commonplace. Today's tiny houses generally range in size from 150 square feet to 450 square feet. Buildings of less than 144 square feet do not require a building permit.
"New York State is a 'home rule' state," said Crowley. Theoretically, counties and towns can write original legislation, as long as it doesn't contradict existing state and federal laws. The board referred the tiny-house issue to the planning board for consideration.
Council approves Rochester 2034 plan Nov 13th, 2019
The City of Rochester has a new comprehensive plan.
Tuesday night, all nine members of City Council voted to adopt Rochester 2034, the plan developed by the city to guide its land-use and development decision-making over the next 15 years.
The city's document clarifies that the plan isn't recommending changes allowing for those units, commonly known as in-law apartments or granny flats, in the near-term. Rather, it's something the city should consider "in future discussions of how to create strong, healthy neighborhoods with multiple housing options."
The plan also recommends that laws allowing tiny houses be included in that discussion.
Rochester 2034 – A Comprehensive Plan for the City
Canton Golden Bears Foundation accepting bids for tiny house Nov. 17th, 2019
CANTON — The Canton Golden Bears Foundation will accept sealed bids for the Foundation-constructed tiny house from Monday, Nov. 18 to Monday, Dec. 2 at 5 p.m. with 100% of the proceeds to benefit scholarships and student needs.
The starting bid is set at $26,000.
The tiny house is 8 feet wide by 18 feet long and 13.3 feet high. It features 10-foot cathedral ceilings with tongue and groove pine, an oversized queen loft, a full bath including sink, toilet and shower, and
multiple windows to allow for lots of natural light.
Article Source North Country Now
Rochester's comprehensive plan heads to City Council Oct. 8th, 2019
That recommendation now goes to City Council, which is expected to consider it at its Nov. 12 meeting.
The plan, called Rochester 2034, will guide land-use and development decisions in the city for the next couple of decades. It's partly a presentation of the community's vision and goals. But it's also a key government document: State law requires that municipalities' zoning laws conform to their comprehensive plan. Rochester will revise its zoning code soon, and Rochester 2034 will influence changes in those laws.
The plan's discussion of single-family residential areas has also come under fire. The plan recommends loosening restrictions on two-family residences in those neighborhoods, for instance. And it suggests changing the minimum lot requirement and encouraging a variety of housing types, including "tiny houses" and in-law apartments.
Appendix Q Tiny Homes has been approved in the state of New York: Sept 27th, 2019
Estimated effective state March 2020
Forestville Superintendent enjoying her 'other' residence Sept. 14th, 2019
For Forestville Superintendent Renee Garrett, a project that began as an idea one summer vacation evolved into a two-year hobby that she can now call home. In between her school and family responsibilities, Garrett built a "tiny house," thereby joining the nationwide housing movement that proves when it comes to square footage, less is more. In fact, it may just be the secret to living large.
Tiny Houses with a big purpose Sept. 13th, 2019
IDDLEFIELD, NY – Otsego County is working on a plan to house homeless people in tiny houses.
One of the ideas is to save money in housing costs. The county pays out about a million dollars a year housing the homeless. One of the ways the county is saving money is in labor. The tiny houses are being built by Delhi Engineering Students, but Otsego County Senior Planner Erik Scrivener tells us the savings don't stop there.
"These are small compact units. We made sure to build them very energy efficient. We're hoping to have zero-net energy out of these between heating them with geo-thermal, and powering them with solar."
Karen Sullivan is the Director of Planning for Otsego County. She tells us saving the county money was one of the overall goals.
Showcase of Homes tour highlights best in building Sept. 8th, 2019
The house, built with assistance and materials from local businesses, has approximately 220 square feet of living space. The students followed plans provided by The Tiny Project, which sells floor plans online.
"We hope it will raise awareness about kids getting into the trades," said Dave Trojanski, director of residential construction for Bonacio Construction and president of the builders association. "We're trying to show people how much money there is to be made in these jobs."
Tickets are $20 per person, children under 12 are free. Stops on the tour will be open from 11 a.m. to 5 p.m., Sept. 14 and 15, 21 and 22, and 28 and 29. Proceeds will be split between Rebuilding Together Saratoga County and Habitat for Humanity of Northern Saratoga, Warren and Washington Counties.
Article Source Timesunion
First Two Tiny Homes In Place At Meadows
Brian Wilcox, of Wilcox Construction Co., Norwich, top, examines the first two of 15 "tiny homes" behind the county's Meadows Office Complex, Town of Middlefield. The small structures are a county Board of Representatives' initiative to provide temporary housing for the county's homeless. Inset, Senior County Planner Erik Scrivener examines the space in one of the structures where the bathroom will be located.
New York : Adopting 2018 IRC Including Appendix Q Estimated Effective Date March 2020
2020 Residential Code of New York State
Building Code Standards of New York State
Open For Public Comments Until September 10th, 2019
If you have suggestions on how the proposed rule amending the Uniform Code could be improved, suggested alternatives the proposed rule amending the Uniform Code that the Department of State could consider, or any other comments on the proposed rule amending the Uniform Code, please contact Jeffrey Hinderliter by mail at New York State Department of State Division of Building Standards and Codes, 99 Washington Ave., Albany, NY 12231-0001; by telephone at (518)-474-4073; or by email at code.development@dos.ny.gov.
Spoke with Gerald Hathaway on August 6th, 2019
Tiny houses, big hearts: Three tiny homes for homeless women unveiled on Slocum Avenue July 28th, 2019
An empty plot of land on Slocum Avenue in Syracuse has been transformed into three new tiny homes for women once facing homelessness, and the nonprofit behind the project has plans to build seven more before the end of the year.
A Tiny Home for Good is a local non-profit dedicated to building homes for people facing homelessness. Director Andrew Lunetta said the newest housing project was sponsored by the IUE-CWA, a labor-union partnership who supports one housing initiative across the country each year.
Get Ready NYC, Tiny House Glamping Is Coming to Governors Island June 21st, 2019
The 300 square-foot units are reminiscent of a tiny home with a king bed, couch, and private bathroom with rain-style shower starting at $725 per night. Start the morning sipping coffee while lounging back in an Adirondack chair on one of two private decks and end the night taking a long soak in the tub.
ROCHESTER, N.Y. (WHAM) – Some big plans are shaping up for tiny houses in Rochester. Feb 18th, 2019