Even if you don't know it, you've probably seen one of Incredible Tiny Homes' tiny houses before.
And if you haven't, allow us to introduce you because Incredible Tiny Homes just became a THIA commercial member! Please join us in welcoming them to our growing team of tiny house vendors!
Incredible Tiny Homes is based in Tennessee, but the nice thing about tiny homes on wheels is that you can take them anywhere. And once you find tiny house parking, it will be time to set up shop! 
So how will you use your tiny home?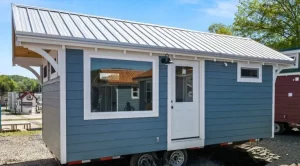 Do you need a home office for your remote job? How about a zen-den for a little peace and quiet in a world full of chaos? The nice thing about a tiny house is that it can serve so many purposes!
Your tiny home journey will be unique to you, so study up and pick your favorite floor plan. Your tiny house lifestyle is waiting!
Do you want to learn more about Incredible Tiny Homes? They are available to connect on Facebook, Instagram, YouTube, and Pinterest!