Everything you need to know about IRC Appendix AQ model building code for tiny houses.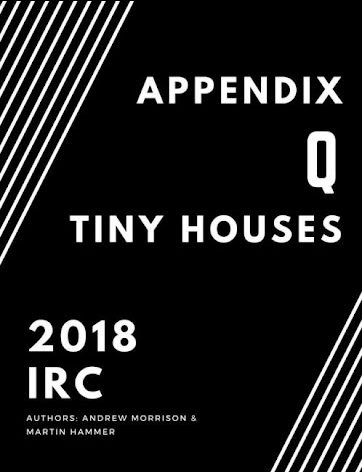 "As advocates, one of our first building code tasks was to get the IRC to recognize the unique product of foundation-based housing under 400 SF (now applies to movable tiny homes too!).  To that end, our organizations and members helped write and approved Appendix Q in the 2018 IRC.

We recently updated that in the newly approved 2021 IRC code Appendix Q.  We continue to lobby the 50 states to include Appendix AQ in their building code updates—and are pleased to report that the effort has been quite successful."

-THIA President Dan Fitzpatrick
The International Residential Code (IRC) is a model building code developed by the International Code Council (ICC). As a comprehensive, stand-alone residential building code, it  establishes minimum regulations for one-and two-family dwellings using prescriptive provisions for building, plumbing, mechanical, fuel, gas, energy, and electrical. The IRC is in use or adopted in 49 US states, the District of Columbia, Guam, Puerto Rico and the U.S. Virgin Islands. 
Importantly, as a model code, the IRC is intended to be adopted in accordance with the laws and procedures of a governmental jurisdiction. During the adoption process, some jurisdictions amend the code to reflect local practices and laws.
Each state adopts IRC codes differently. While some adopt the code in its entirety, others pick and choose the parts they like and use them to augment their state code. Of note, some states have statewide adoption process while others manage the adoptions at the local city or county level. 
Regardless of how IRC codes are adopted in your state, a code appendix is NOT automatically adopted along with the rest of the code. Some states offer statewide adoptions, others offer local adoptions, and sometimes it is a mix of the two.
In an nutshell, Appendix AQ is a model building code for foundation-based AND movable tiny houses, providing building safety standards for houses that are 400 square feet and under. 
It  relaxes various requirement in the main body of the IRC. Specifically, the Appendix AQ addresses the issues related to safety and maximizing efficient design of tiny house. Attention is specifically given to features such as compact stairs, including handrails and headroom, ladders, reduced ceiling heights in lofts and guard and emergency escape and rescue opening requirements of lofts. Read the entire Appendix AQ for tiny houses here.
Importantly, it is up to each state and/or municipality to adopt Appendix AQ  into its residential building code. 
When adopted, it provides a pathway for tiny homes to allowed as primary residences or accessory dwellings units through local zoning. Jurisdictions that see there are ICC-approved codes to build tiny homes can be more open to adopt those types of dwellings into their zoning ordinances.
Read about the ICC's groundbreaking Advisory on Tiny House Model Legislation allowing for movable tiny homes to be built to residential code, stick-built or modular.
In a huge number of cities, counties, and US states! Browse our Tiny House Resource Map to see which states and jurisdictions have adopted the Appendix Q.
"Jurisdictions may use Appendix Q as a model code to adopt, reference, or amend. Builders or even jurisdictions that have not adopted the 2018 IRC or the Appendix, can seek approval "on a project basis through the alternative materials and designs provision" in the IRC."   

-David Eisenberg, Appendix Q proponent and Development Center for Appropriate Technology founder
Read about the ICC's groundbreaking Advisory on Tiny House Model Legislation allowing for movable tiny homes to be built to residential code, stick-built or modular.
Appendix AQ now relates to BOTH foundation-based and movable tiny homes.
The International Code Council (ICC), in collaboration with THIA, has published An Advisory on Tiny House Model Legislation containing simple language that can be embedded into laws for the adoption of residential building codes that permit a Movable Tiny House (MTH) to be used as a full-time residence. Of note, a MTH is also popularly known as a tiny house on wheels (THOW).
The verbiage in this model legislation specifically references the International Residential Code (IRC), supplemented with the provisions for Tiny Houses contained in Appendix AQ (formerly known as Appendix Q).
Contrary to the commonly held misconception that the IRC is not applicable to MTHs because they are built on wheels, the IRC has no provisions regarding the presence (or absence) of wheels.
The first application of the Appendix AQ for MTHs occurred in a planned unit development:
Lake Dallas Tiny Home Village (LDTHV) is the first example of the Appendix Q being adopted locally for a specific use, within this planned unit development, and amended to allow for moveable tiny houses.  All MTHs in the community must comply with this building code (minus the chassis), be tied down, and utilize fire-resistant skirting. Permits are issued after third-party inspection to ensure it meets the Appendix Q, or reasonably meets the intent of the code. Learn more about LDTHV here.
Appendix Q was co-authored by educator, builder, and tiny house dweller, Andrew Morrison, and architect Martin Hammer in 2016. They rallied a team of advocates together for an incredibly organized effort to present at the International Code Council (ICC) hearings and led an advocacy campaign to get it adopted across many states.
Watch the documentary, Living Tiny Legally Part 2 to see history in the making!
The relaunching of THIA in 2019 coincided with the code cycle changes all across the country. THIA took this as an opportunity to help further the work of Martin Hammer, architect and the original co-author of the IRC Appendix Q, to develop relations with code officials and actively participate in the new edition of Appendix AQ for the IRC 2021.
THIA helped finance this work and was directly involved with the editing and public comment process, with THIA CEO Brad Wiseman's leadership. Additionally, we have been involved in the public comment stages in numerous states and local jurisdictions to support the adoption of the current version of Appendix AQ.
Watch documentary "Living Tiny Legally: Part 2" to see history-in-the-making!
"Becoming a THIA member helped me bring tiny houses to my town.  Now, I can live where I want and how I want, legally."
-Jessica B. San Jose, CA
"We entered the Tiny House on Wheels industry because we felt that this product is both of vital future importance, and also that the industry would benefit
from experienced professional construction and standards. THIA stands for exactly these things which are the reason we started building tiny homes in the first
place.
With THIA I feel confident that we are moving towards a fair and correct set of national standards, and as this is an organization that has a real purpose, not just a name and a sticker, we will be a member moving forward. It's also fantastic to have somewhere to get some feedback or secure a referral."
- Jerry Terry, Decathlon Construction