You know those tiny homes you've fallen in love with on Instagram? The ones with the cedar siding and black metal exteriors? Yeah, those.
Now add a downstairs bedroom and a CEO who cares. Oh, and slash that price point you're imagining in your head.
That's Western Colorado Tiny House.
And they just became a THIA commercial member! (Can you tell we're fans?!) Please join us in welcoming them to the team.
Western Colorado Tiny House offers certified tiny homes that begin at just 59k! They also build custom tiny houses, an increasing rarity nowadays.
Do you like luxury? Because Western Colorado Tiny House builds homes that feature Velux skylights and glass front doors.
And the founder/CEO is committed to holding out hope for our future and the practice of non-destructive architecture.
"In the future, people will refuse to live in homes that are built unconsciously and with destructive architecture." 
We're not crying; you're crying. 
Now who needs a tiny house?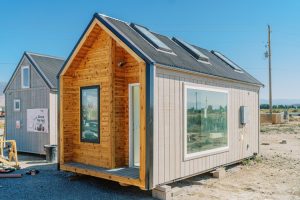 Would you like to learn more about Western Colorado Tiny House? They are available to connect on Facebook, Instagram, and YouTube!