Senate Bill ESSB 5383- Tiny Houses bill went into effect July 28th, 2019
Sponsored by Senate Housing Stability & Affordability. It was originally sponsored by Senators Zeiger, Palumbo, Nguyen, Short, Van De Wege, Wilson, C., and Wilson L. First read 2/14/2019.
Highlights
Section One: Tiny House Villages
Individual cities and counties may allow tiny houses with wheels to be collected together as tiny house villages using the binding site plan method articulated in chapter 58.17 RCW.
Appendix Q Can Provide A Basis For The Standards Requested In The Act
The legislature recognizes that the International Code Council in 2018 has issued tiny house building code standards in Appendix Q  of the International Residential Code, which can provide a basis for the standards requested within this act.
Section Six: By December 31st, 2019 Adopt Building Code Standards Specific For Tiny Houses
Sec. 6. RCW 19.27.035 and 2018 c 207 s 2 are each amended to read as follows: The building code council shall:
(1) ( A )   By July 1, 2019, adopt a revised process for the review of proposed statewide amendments to the codes enumerated in RCW; 19.27.031 and ;
(B) Adopt a process for the review of proposed or enacted local amendments to the codes enumerated in RCW 19.27.031 as amended and adopted by the state building code council.
(2) By December 31st, 2019 Adopt Building Code Standards Specific For Tiny Houses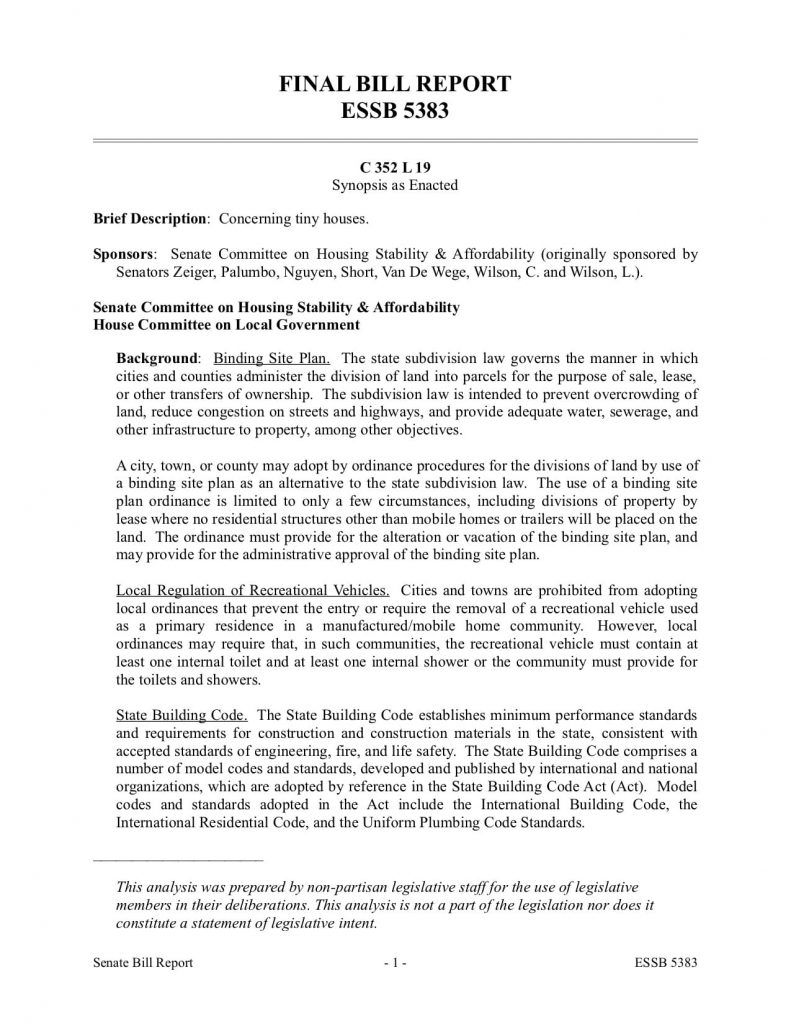 Entire Report 5383-S.E SBR FBR 19
Photo Credit Carriage Houses NW