Would you like help buying or building the perfect tiny house? Whether you are a student, retiree, or family of five, U-Build Tiny Homes can help you design a tiny home or find the right builder!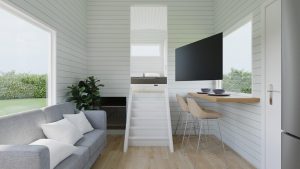 And guess what? They just signed on as a THIA commercial member. Please join us in welcoming them to the team!
U-Build can help you find the perfect tiny house, but their services don't end there. U-Build also offers a range of tiny home support services and will make sure you get your tiny home questions answered by their team of tiny house experts. 
So if you need help with tiny home financing, arranging tiny house transportation, or want help setting up your tiny house, they can help.
U-Build can also assist those wanting to build tiny home communities, so if a tiny house community has been on your mind for a while, you'll want to give them a call for sure!
Do you want to learn more about U-Build Tiny Homes? They are available to connect on Facebook, Instagram, and LinkedIn!