The tiny house lifestyle is all about the details. That's why we're so excited to introduce you to our latest THIA commercial member, Nimo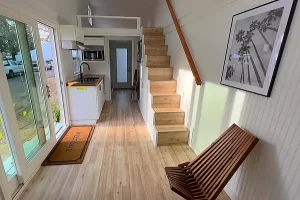 Homes! These California-based tiny home builders know how to bring flourish to tiny home design.
Do you want to buy a tiny house with a dishwasher? Perfect, because Nimo will build you one with the super silent Fisher & Paykel drawer dishwasher, so you can throw tiny house dinner parties!
And if you love built-in furniture, wainscoting, and skylights, you should know that Nimo tiny house designs feature all those things!
Nimo tiny houses are certified by our friends at Pacific West. They are also built to ANSI and NFPA standards, so you can rest easily knowing you're purchasing a high-quality tiny home.
Not sure what the future holds? Hey, that's OK. Fortunately, Nimo builds tiny houses on wheels, so like their tagline says, you can live where you are.
Do you want to learn more about Nimo Homes? They are available to connect via email, and you can see their tiny home tours on YouTube!