thia welcomes the tiny home lady!
We heard you want to go tiny! That's great! But where the heck does one even start? If you were looking for someone to help you along the path, Lindsay Wood, AKA The Tiny Home Lady, is your ultimate guide to tiny living! We are honored to welcome her as a THIA commercial member! 
The Tiny Home Lady got her start when her builder went out of business mid-build and left her a Tiny Home shell and an 8 month "Surprise DIY" project. Since then, Lindsay has made it her business to know everything about the tiny home industry and how to successfully pursue this lifestyle.
The Tiny Home Lady has two divisions of her business, Tiny Home Buyers and the Tiny Home Advantage.
For the Tiny Home Buyer…
Lindsay is the creator and instructor of the GO TiNY! Academy, which guides go-getters on their journey towards their dream Tiny Home, giving them the tools for success! 
The GO TiNY Academy's approach is powerful because it focuses on overcoming three main pillars (which are often obstacles for going Tiny). 
LAND, FINANCE and BUILD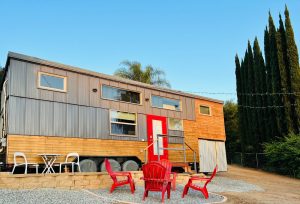 It would take most of us a lot of time, energy and money (and a lot of learning the hard way!) to gain the experience The Tiny Home Lady has packed into 5 Modules in the GO TiNY! Academy. 
When going Tiny you have two options…
Option A: Spend countless hours online and calling builders and ending up with more questions than answers.
Option B: Work with an expert who's been there done that and made all the mistakes…who can answer your questions and guide you quickly to your best next step to take on your journey.
Thank goodness the GO TiNY Academy exists to save us all!
Learn more how the GO TiNY! Academy can support you on your journey HERE 
You can also find Lindsay hosting GO TiNY! VIP Tours at Tiny Home Events taking place around the US. Tap into the community, the network and have fun touring Tiny Homes with an expert to answer your questions and guide you successfully on the journey to GO TiNY!
"The Tiny Home Lady mission is two-fold :
Guiding people dreaming of going Tiny 
Develop 100,000 Tiny Homes and Villages across the US."
For professionals, The Tiny Home Advantage…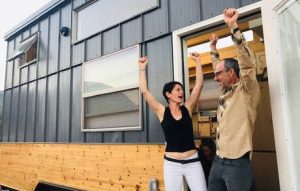 Lindsay brings her Green MBA along with 25+ years in B2B sales and marketing, (specifically in start up industries like Biodiesel and LED lighting) to this burgeoning Tiny Home Industry, expected to grow to $3.3b by 2025.
The GO TiNY! Showcase is a curated mobile exhibit showcasing builders and suppliers innovating the Tiny Home Industry. The GO TiNY! Showcase travels to Tiny Home Shows across the US.
The Tiny Home Lady also offers Tiny Home Advantage consisting of consulting and marketing for builders, suppliers, and developers starting out in this industry. The focus of the Tiny Home Advantage is for companies to tap into the network and gain valuable information so you can get seen, heard and paid in the Tiny Home industry.  
Whether you are…
A seasoned contractor and want to know how to successfully get into the Tiny Home Market. 

A supplier who's looking to share your products and services with builders and buyers in the Tiny Home market

A small to large developer looking to create more housing with Tiny Homes.
…Consulting with Lindsay, The Tiny Home Lady will give your business the Tiny Home Advantage.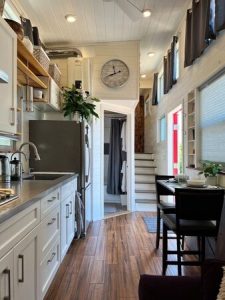 "Lindsay believes in what she promotes. Her energy and enthusiasm for the industry is infectious. She is the glue that holds together THIA (Tiny Home Industry Assoc.). She is a great resource, so if you want to get up to speed on the Tiny Home world, consulting with Lndsay is a great way to jump in! " - Enrique Morales, Tiny Camp
Whether your business wants to consult with Lindsay or enroll in the GO TiNY Academy, The Tiny Home Lady is available to connect on her Website as well as Facebook, Instagram, and YouTube!