Guess who just joined us as a THIA commercial member? 
Living the Tiny Dream
Here at THIA, we are particularly excited to welcome this company to the team. Why is that? Well, because the owner (Dawn) is one of the few tiny house company owners who actually lives in a tiny house. 
Since 2014, Dawn has lived in a 199 square foot tiny house that she built herself. She comes to the table with decades of experience in the construction industry and extensive knowledge about sustainable gardening, landscaping, and working with planning and zoning departments!
Quality, Customer Service, & Options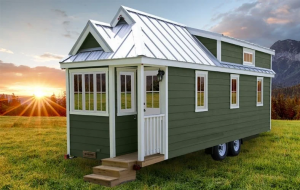 My Tiny House Builder is an Arizona-based company that wants to do more than just build the custom tiny of your dreams- they also want to smooth out the road to legalization. For this reason, Dawn partnered with local contractor, Lazaros, of Resurrection Remodeling. Their dual license, ROC332791, allows them to work on both residential and small construction projects, all while giving them the insight to find creative solutions to tiny house legality problems. 
Seriously, we could go on and on, but it's probably best you hear the rest from them! 
When you are ready to connect, you can find My Tiny House Builder on Facebook!