From Hoarder To Tiny House Dweller
Guest Editor: Jennifer Fuist
My story: I was a hoarder living in an apartment before I went tiny. Throughout the years and in my adult years I continued to save almost everything that I bought or that was given to me. I had accumulated so much stuff that it started to pile up along my walls and under my bed and under dresses. I was stuffing things behind things, buying more things, and needing to find space for all this extra stuff that I just didn't need. Growing up it made me feel good to keep and hold onto the memories. I would often get nostalgic seeing all my childhood memories still around me. After a while, it gets to be too much. My STUFF started to weigh me down and I would get frustrated at myself for bringing more in. So I felt something had to change. I wanted to be free from this grip my belongings had on me. So a friend of mine introduced me to tiny houses on wheels. He told me about them because he was interested in getting one. I had zero interest. I felt I couldn't live in a house that small with all my stuff and there was no way I could ever give any of it up. Until I seriously had it one day. I got upset that I couldn't find a place for something and made me so angry to the point I said the change has to happen. So I figured out a plan and claimed I'd make it happen in 1 year total.
The 1-year challenge to downsize & plan: I took a notebook and wrote down everything I felt it would take to go tiny. It became my dream. My goal. My everyday effort to get closer to making it happen. One year later, it did. In this one year, I had done tons of research, go to a tiny house Jamboree, and read books on tiny living. I joined groups, watched youtube videos, and planned everything out.
Emotional Downsizing: I sold 4000 items in a facebook group I created called Preloved Trinkets & Treasures and made a lot of money doing that because I asked for more than garage sale prices. People bought my stuff and supported my dream. I made over $10,000 shipping out orders to people all over the country.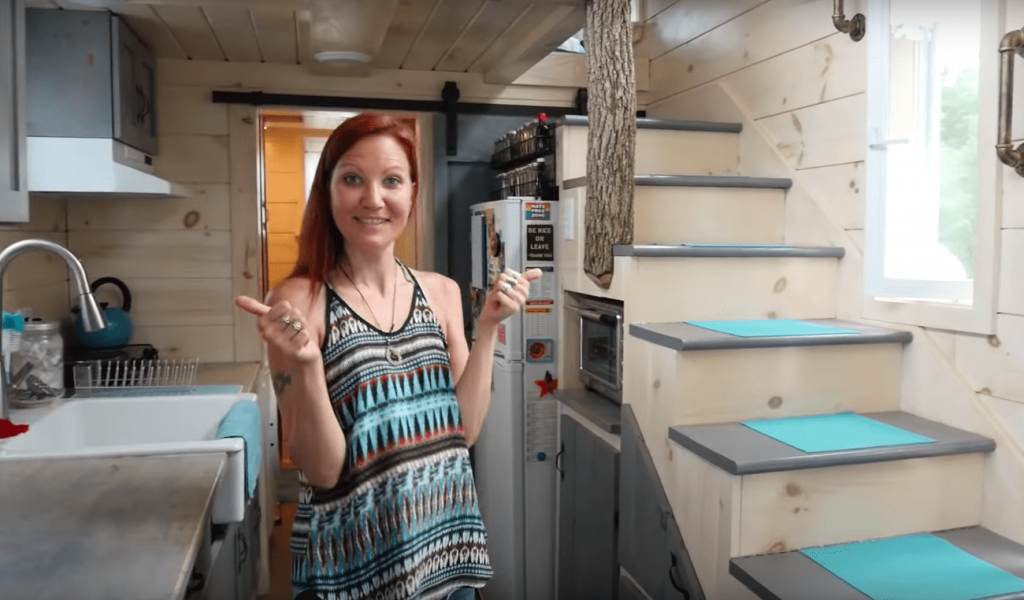 My life living tiny: Fast forward to today, my 4 cats and I live happily in my tiny house where I settled down in a family-owned campground in Marseilles Illinois called 4 Star Campground. I was in one spot for a year and just recently moved to a different spot with a much bigger yard. I recently had a nice sized shed built and put it next to my tiny house. Recently I spotted another tiny house in the campground!! It was exciting.
My work: I am also self-employed with a couple of jobs. I have made a living out of my tiny house by creating a youtube channel called Tiny Dreamer where I show the pros and cons of living tiny and my experiences living tiny. I am busy daily from 9-5 filming videos, uploading videos, and promoting my videos on social media. I also admin a group I created called Tiny House Central on Facebook where members in the tiny house community can post anything tiny house related including events, builders, communities, blogs, promotion, sponsorship, ask and answer questions, and more. My second small business is called Goddess of herbs that I run out of my tiny house. When I had the tiny house built I had an 8' x 8' business office built. I make and sell herbal remedies, natural products, and natural stone jewelry as well as other natural gifts. I had custom cabinets made to hold my products and stock, inventory, and supplies. Living in a tiny house is an amazing experience that has changed my life for the better.
Conclusion: I honestly feel I am happier, I have more freedom and I am living life to the fullest with this new lifestyle I have discovered! I am no longer a hoarder and I am mindful of what I bring in my home because there is only so much space.
My goal for the future: To buy some land in the warmer weather and rent out a few spots to help out other tiny house dwellers in need of a legal spot! I hope tiny houses on wheels will be more accepted in the near future!