Custom historic sheds and tiny houses? Yes, please! Here at THIA, we love historic structures, so we couldn't be more excited to welcome Historic Shed as one of our official commercial members!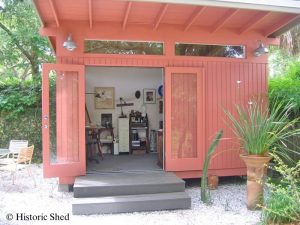 Historic Shed was founded by Craig and Jo-Anne of Brooksville, Florida, after realizing how difficult it was to build or buy off-the-shelf sheds that met preservation requirements in historic neighborhoods.  
Preserving History
With over twenty years of experience in the historic preservation world, this husband-wife team is more than qualified to help you design and build the shed of your dreams that meets historical requirements and maintains the neighborhood's character. 
If you've ever seen their work, you know that their commitment to craftsmanship is unparalleled. Throughout the years, Craig and Jo-Anne have remained dedicated to their use of traditional materials, which they use to build structures that are as durable as they are attractive.
Competitive Versatility
They might build historic sheds, but that doesn't mean this company is stuck in the past- in fact, they have since expanded their services to include building garages, apartments, home offices, and yes, even tiny homes! If you desire a shed or small-space structure that brings the beauty of the past into the present, go ahead and call Historic Shed. You couldn't be in better hands.
Want to learn more? Historic Shed is available to connect on Facebook, Twitter, and Pinterest!