Applying Appendix Q To A Tiny House On A Chassis
Written By Janet Thome
Tonight, The City and Borough of Sitka, Alaska creates history for the tiny home industry. The second and final reading for ORD 20-02S (A) passed at a vote 6 to 0 and is a great win for movable tiny homes. Sitka, Alaska has approved tiny homes on a foundation, but what is groundbreaking, they have written an ordinance that amends Appendix Q that applies to movable tiny homes. From the floor joists up, the tiny home will be built to the IRC Appendix Q.
The chassis on which a tiny house is placed or constructed, including all components attached to the chassis, shall be of adequate structural strength to resist all dead and live loads imposed upon it and/or required by applicable safety standards. The Building Official may require third-party certification to ascertain compliance with this section.
Both tiny homes on a foundation and movable tiny homes will require a building permit and will be subject to inspection during construction. Legal Classification: Tiny House On A Chassis somewhat of a hybrid standard, built to local building codes, though Sitka created their own classification which allows for full time living with conditions. The trailer will need to be registered at the DMV for transport purposes and the trailer should be structurally rated to support the load which is placed upon.
Sitka Leads The Way With Tiny Home Law
By HENRY COLT
Sentinel Staff Writer
After four months, three Planning Commission sessions, three first readings by the Assembly, and nearly one hundred phone calls made by Planning Department Special Projects Manager Scott Brylinsky, the Assembly Tuesday night passed the ordinance that makes tiny homes a viable living option in Sitka. Janet Thome, Tiny Home Industry Association liaison and media coordinator based in Washington, told the Sentinel today that this may be the first of its kind in local codes regarding tiny homes.
"The (Sitka) ordinance will be a template that other jurisdictions can follow across the country," Thome wrote Tuesday night in a THIA blog post headlined "Groundbreaking Sitka, Alaska Tiny House Ordinance."
"Almost every day, we are seeing a battle with homeowners and municipalities: is it a structure, or is it a vehicle? Perhaps it is both; I applaud Sitka for forging a way for others," she wrote in the blog post.
Tiny homes are a global trend, and local jurisdictions have been hurriedly trying to fold them into their local building and zoning codes. And they've been succeeding, says Thome – but only "from the floor joists up."
Where they get stumped, she says, is the movable, wheeled chassis on which many tiny homeowners want to build their dwellings.
"Everybody is wanting to live in a tiny home on wheels," Thome told the Sentinel in an interview today. "It's the rage all across the country; I mean, it's huge! They're great for mobility, for avoiding natural disasters, and they can be rapidly built and factory controlled."
"But the jurisdictions immediately say 'No,' or the insurance companies say, 'No,'" she added. "They haven't figured out how to check that box."
Sitka found a way to check that box.
Rather than shoehorning them into previously existing categories like RVs, self-propelled vehicles, fifth-wheel trailers, or second family dwellings, Sitka's ordinance – a joint effort between the city's planning, zoning, and legal departments – provides tiny homes on chassis their very own definition and legal classification.
Thome says she plans to send the Sitka ordinance to a number of cities, including ones in Washington, Colorado, Missouri, and New Zealand.
In addition to providing legal status for tiny homes on chassis, the Sitka ordinance has three features:
-It adopts Appendix Q from the International Residential Code (IRC), which allows certain construction breaks to homes less than 400 square feet.
-It allows tiny homes on permanent foundations to be built in Mobile/Manufactured home parks.
-It conditionally allows tiny houses on chassis to be placed in individual lots in the same zoning districts that currently allow manufactured homes to be placed in individual lots.
The Sentinel spoke with building official Pat Swedeen about the steps needed to comply with the new regulations.
To ship a previously-built tiny home from out of town to Sitka, Swedeen said, the builder has to provide proof that the structure meets IRC standards. The new owner must apply for a conditional use permit through the Planning Commission. Those seeking to build a tiny home for themselves would have to apply for both a conditional use permit and a building permit, the building officials said.
Swedeen says he is here to help. "Emails, phone calls, meetings here in the office – we'll do everything we can to help people come to a design that's approvable," he said.
"While the home is being built, we'll do inspections," Swedeen says. "We'll inspect the framing, the electrical installation, the plumbing installation, and then at the end we'll come through and do a final inspection to make sure everything was done right and wired correctly, at which point we'll provide what has been termed a 'certificate of approval,' which is an adaptation of a certificate of occupancy."
Approvable tiny homes must have a "habitable room" (excluding kitchen area) whose length and width are both greater than 7 feet. The total square footage of the structure, excluding lofts, must be less than 400 square feet. The homes must have skirted bottoms and ventilated crawl spaces, and be hooked up to city sewer and water.
Sitka High students in the Career and Technical Education program have built the Tongass Tiny Home, a version of a tiny home that is currently for sale at $65,000
Unfortunately, said Swedeen, the Tongass Tiny Home is too tiny to be approvable. He says its longest habitable room dimension is closer to 5 feet than 7 feet.
Swedeen encourages those with building questions to contact him at 747-1832  or pat.swedeen@cityofsitka.org.
Those with zoning questions should reach out to Planning Director Amy Ainslie at 747-1815 or amy.ainslie@cityofsitka.org.
Article Source Daily Sitka Sentinel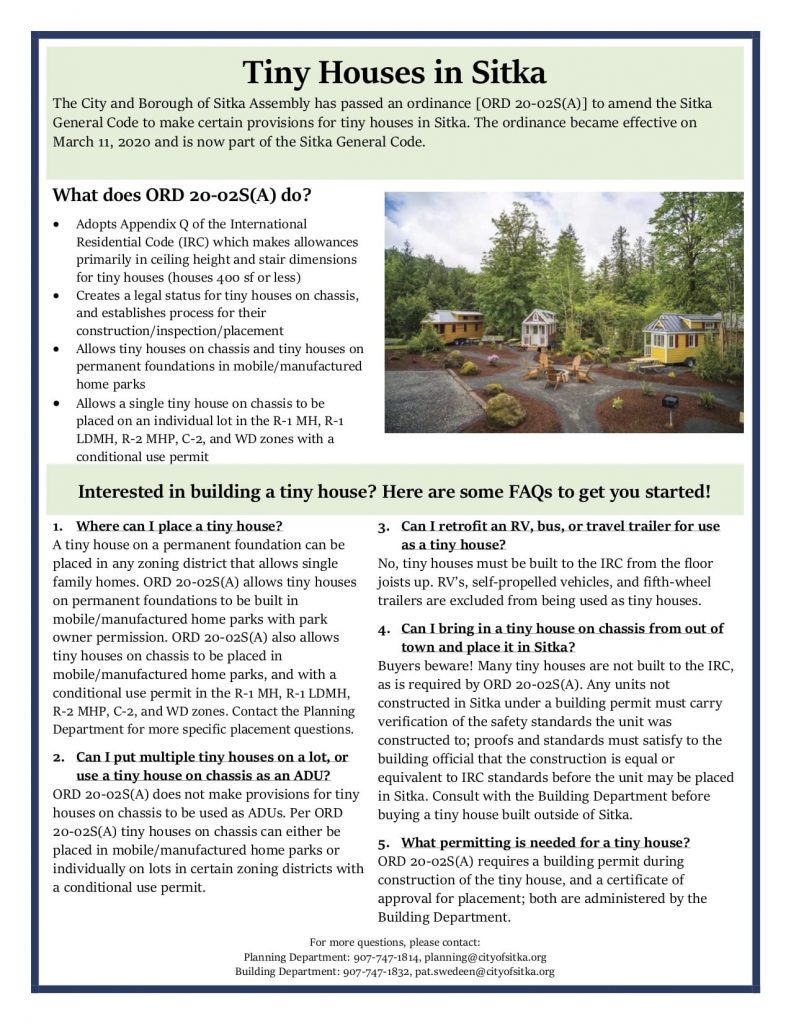 Special Thanks To The Sitka, Alaska  Planning Department Special Projects Manager Scott Brylinsky For This Groundbreaking Ordinance That Forges A Path For The Tiny Home Industry
Related: New tiny house code inches forward, with changes: Article Source Raven Radio