THIA Welcomes Foldum!
In a world of unpredictability, temporary-housing company, Foldum, is coming in hot with solutions! And we couldn't be more proud to welcome this powerhouse builder as a THIA commercial member!
Foldum housing units are easily transported, and once on-site, you can expand them to create temporary dwellings that provide comfort to those who will be residing.
"Radical Housing Solutions"
Who might benefit from a Foldum housing unit? Any number of people! Foldum units are a great way to provide safe and efficient shelter for remote contractors, disaster relief responders, event personnel, and the homeless- just to name a few.
There are currently three floorplans for sale: a functional unit that houses eight people and folds down to just 18" tall!; a "duplex" style double unit that gives two parties their privacy, and an upgraded en-suite for those who desire an adjoining bathroom.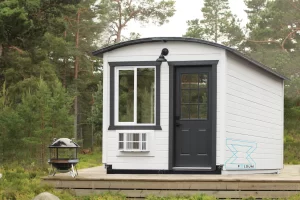 If you are someone who likes to be prepared for anything, make sure you bookmark the Foldum website. They'll have pop-up housing en route to you the moment you request it.
Want to learn more about Foldum? They are available to connect on Facebook, Instagram, YouTube, Twitter, LinkedIn, Pinterest, and TikTok!