ANSI A119.5 and NFPA 1192
Introduction to RV building standards commonly used for movable tiny houses
In lieu of movable tiny house specific building standards, the industry has relied on RV building standards to provide basic life, health, and fire safety provisions for safe construction for MTHs, aka tiny houses on wheels.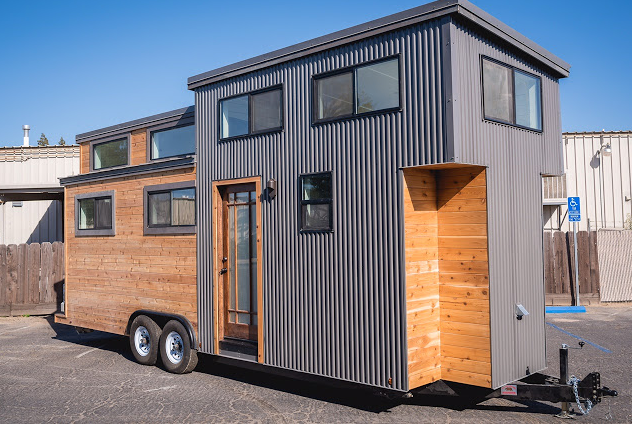 Common requirement for movable tiny house construction in city or county-level zoning codes:
A movable tiny house shall comply with the National Fire Protection Association 1192 Standard on Recreational Vehicles or the American National Standards Institute A119.5 Park Model Recreational Vehicle Standard. A movable tiny house shall be certified by a recognized national certification body as complying with one of these standards and a certified label shall be placed on the movable tiny house to demonstrate compliance.
ANSI A119.5 Park Model is a nationally recognized standard that defines the building codes for Recreational Park Models. NFPA 1192 is for recreational vehicles.
National Electrical Code (NEC) sets the standards for electrical requirements of all buildings, with sections 551 and 552 pertaining to Recreational Vehicles and Recreational Park trailers respectively.
The regulation of the use and occupancy of RVs is the purview of state and local authorities.
In numerous cities that have approved MTHs as accessory dwelling units, or to be sited community developments or even on single lots, require that they are built RV building standards and certified as such.
RV certification is required in order for the tiny home to be permitted, among other requirements.
These local zoning ordinances seek to differentiate MTHs from traditional RVs through design requirements such as:
A movable tiny house shall be constructed to include the following design elements:

(A) Cladding and Trim: Materials used on the exterior shall not be single piece composite, laminates, or interlocked metal sheathing; (B) Windows and Doors: Windows shall be at least double pane glass, labeled for building use, and include exterior trim. Windows and doors shall not have radius corners; (C)

Roofs: Roofs shall be sloped to drain over the roof edge. At least 50 percent of the roof area shall have a roof slope of 2:12 or more. Roof coverings shall comply with the Residential Building Regulations in Chapter 14, Article 9, Division 9; and (D) Living Area Extensions: The roof and all exterior walls (O-2020-114) -PAGE 14 OF 19- shall not be fixed with slide-outs, tip-outs, or other forms of mechanically articulating room area extensions.
RV certification is a service provided by a trade association third-party accredited inspection and certification agency with the qualifications to administer and assure compliance to the RV building codes.
RV certification for movable tiny homes is typically a requirement for placement per local MTH zoning ordinances. It also plays an essential role in helping MTHs get financed, insured, and accepted at RV parks and tiny home communities.
The short anwser is no.
However, most movable tiny house builders are building to the NFPA 1192 Standard or the ANSI 119.5 Park Model Standard, to be able to get them certified and registered and to get a VIN and title. The builders most always exceed the minimum requirements of these standards and build to 2x4 and 2x6 construction, increase insulation values, have 25-year roof warranties, and use superior materials.
A majority of tiny home builders have coalesced around the THIA's National Builders Committee to work on a game plan for their industry to guide future standards development and acceptance of tiny homes and movable tiny homes by state and local governments. 
As a team, we are prepared to take on the formidable tasks of identifying the portions of existing standards that are relevant to the interests of the tiny home industry, of creating documentation that advises how those existing standards can be best used to develop durable and practical local building codes and of developing standards which address the unique needs of the tiny home industry which are not already well addressed by existing standards, including RV standards.
Watch documentary "Living Tiny Legally: Part 1" to learn how RV standards can be used in local zoning codes for movable tiny homes
"Becoming a THIA member helped me bring tiny houses to my town.  Now, I can live where I want and how I want, legally."
-Jessica B. San Jose, CA
"We entered the Tiny House on Wheels industry because we felt that this product is both of vital future importance, and also that the industry would benefit
from experienced professional construction and standards. THIA stands for exactly these things which are the reason we started building tiny homes in the first
place.
With THIA I feel confident that we are moving towards a fair and correct set of national standards, and as this is an organization that has a real purpose, not just a name and a sticker, we will be a member moving forward. It's also fantastic to have somewhere to get some feedback or secure a referral."
- Jerry Terry, Decathlon Construction