The Affordable Housing Crisis In New Orleans
Written By Janet Thome
Mayor La Toya Cantrell- The first female Mayor in the 300 year  history of New Orleans has called for a study of tiny homes and other affordable housing solutions. New Orleans received $28 million in federal tax credits and block grants.
The funding came through the Louisiana Housing Corporation's 2019 Piggyback Awards. New Orleans developments received nearly $3.4 million in Low-Income Housing Tax Credits and $24.5 million in Community Development Block Grants.
Together, these developments will produce 642 affordable residences.
Article Source New Orleans City Business
On August 7th, 2019  Mayor LaToya Cantrell  kicked off the  Affordable Housing Tour (AHT) in the Lower Ninth Ward.  The AHT is a series of community meetings to engage the public in discussions regarding the future of affordable housing in the City of New Orleans. During the 7-stop tour the Mayor will visit each district (Districts C and E twice) to outline her plan and available resources provided by the City to ensure equitable and affordable housing in New Orleans.
Next Stop Of The Tour Sept 19th, 2019
The next stop with be at 6pm at Stallings St. Claude Recreation Center  at 4300 St. Claude New Orleans , La. 70117  on Sept 19th, 2019
Councilwoman Kristin Palmer is considering tiny homes as a possible solution.
Kristin Gisleson Palmer represents New Orleans City Council District C which includes Algiers, French Quarter, Marigny, Treme, St. Roch and Bywater neighborhoods. She chairs the Transportation and Governmental Affairs Committees, focusing on regionalism within the transportation sector,
As an affordable housing advocate and a neighborhood preservationist, she has tackled the City's Short Term Rental program, fighting developers to keep homeowners in neighborhoods.
Kristin Palmer  visited Micheal Burnside's tiny house, one of the smallest homes in New Orleans
Micheal was homeless for eight years before he saved up to build his own 176 square foot home. It cost him $16,500 to build his home and it is now assessed for $87,000. The lot cost Micheal $5110. This puts his assessed value at around $500 a square foot. His neighbor's homes assessments range from $33 to $196 a square foot.
Burnside said he finds comedy in his situation, and he hasn't decided whether or not to contest the assessment or sell the home and build another one. A new assessment to Micheal's tiny home could make a big difference because he lives on a very small amount monthly.
Sept 3rd, 2019 Tweet From Councilwoman Kristin Palmer
" I'm  interested in looking at opportunities to build tiny houses for our homeless population. Money and resources would have to come from many sources though. Just a thought. What do you think?"
We Think Yes!!!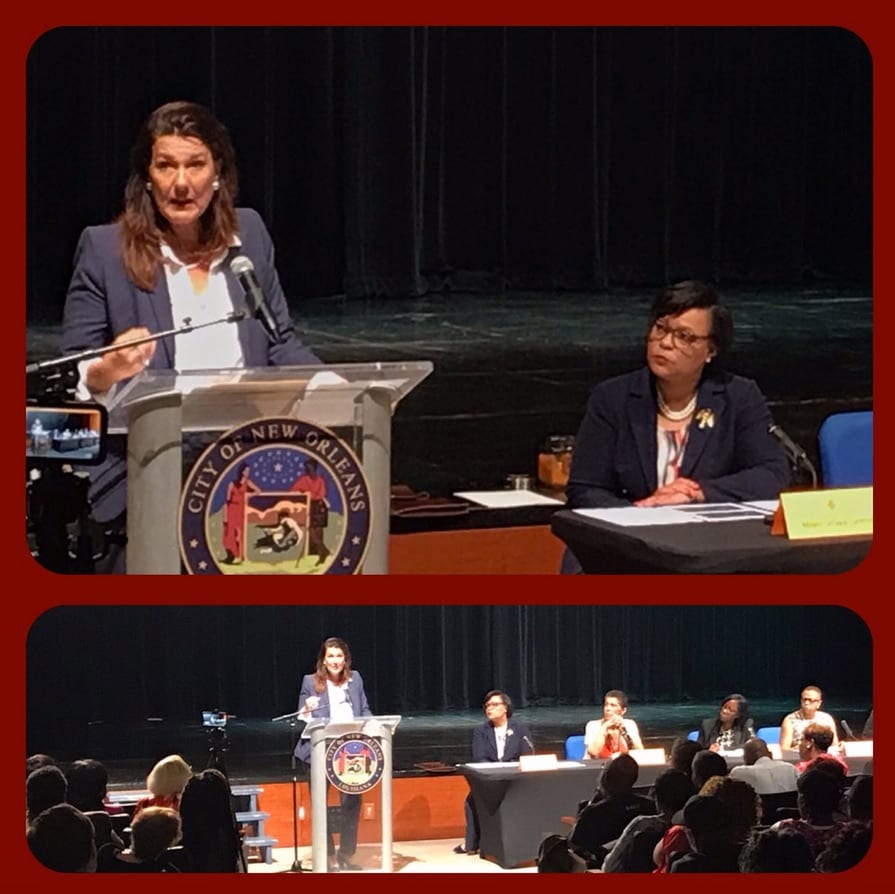 Councilwoman Kristin Palmer and Mayor La Toya Cantrell invite  everyone to the Affordable Housing Tour to listen to your concerns and solution strategies.