Offering Affordable Payment Options For Your Home Improvement Project
Written by Janet Thome
We want to thank and welcome Michael S. Fredricks as a new commercial member of THIA. Michael is the SVP of  Business Development for Hearth. Hearth helps homeowners make smart financial decisions about their renovations. Hearth shows homeowners how to craft an accurate budget for their remodels. When appropriate, they connect homeowners to financing options.
United by the belief that technology can save consumers thousands of dollars during their renovations, entrepreneurs Joe Lonsdale and Anthony Ghosn founded Hearth in September 2016. Hearth is located in San Francisco and backed by prominent Silicon Valley firms such as 8VC and Founder's Fund. These firms have invested in Blend Labs, SpaceX, Oscar, and Wish.
Preserving The  American Dream
Home is where people relax after work. Home is how people build wealth. Home is where people raise families, where they send kids off to kindergarten and college.
It's no surprise that owning a home has defined the American Dream for decades.
The dream extends beyond just buying a house to owning the right home–a home customized to build wealth and reflect the owner's tastes. This broader vision explains why Americans spend over $300 billion on home improvement every year.
Unfortunately, millions of people lack the tools to make smart financial decisions during remodels. Consequences can be disastrous: too much debt, costly delays, and even foreclosure. This status quo is unacceptable in the 21st century.
That's where Hearth comes in:

Hearth Offers
How You Can Offer Financing To Your Customers And Close More Deals
Contact Hearth if you are a contractor and would like to give financing solutions to your customers that with one click of a button, their application can reach 13 potential lenders.
Get rates in 60 seconds
Our short, secure form takes 60 seconds. It's free and won't affect your credit score.
Why Should I Offer Financing? 
If you don't offer to finance, you're limiting the number of deals you can close. 58% of Americans have less than $1,000 saved. They might need your services — but don't have the cash on hand to pay for it. By offering them financing, you're enabling them to receive the funding they need to start the project now and to pay back the funds over time.
Financing can allow homeowners to:
Address a "can't wait" project (like a leaky roof) when they don't have enough cash on hand to pay for it out of pocket.

Enjoy the ease of monthly payments rather than taking a lump sum out of their bank account at once.

Have the flexibility to upgrade their project
By offering financing options, you can appeal to these homeowners, expand your customer base, and grow your business — and your bottom line!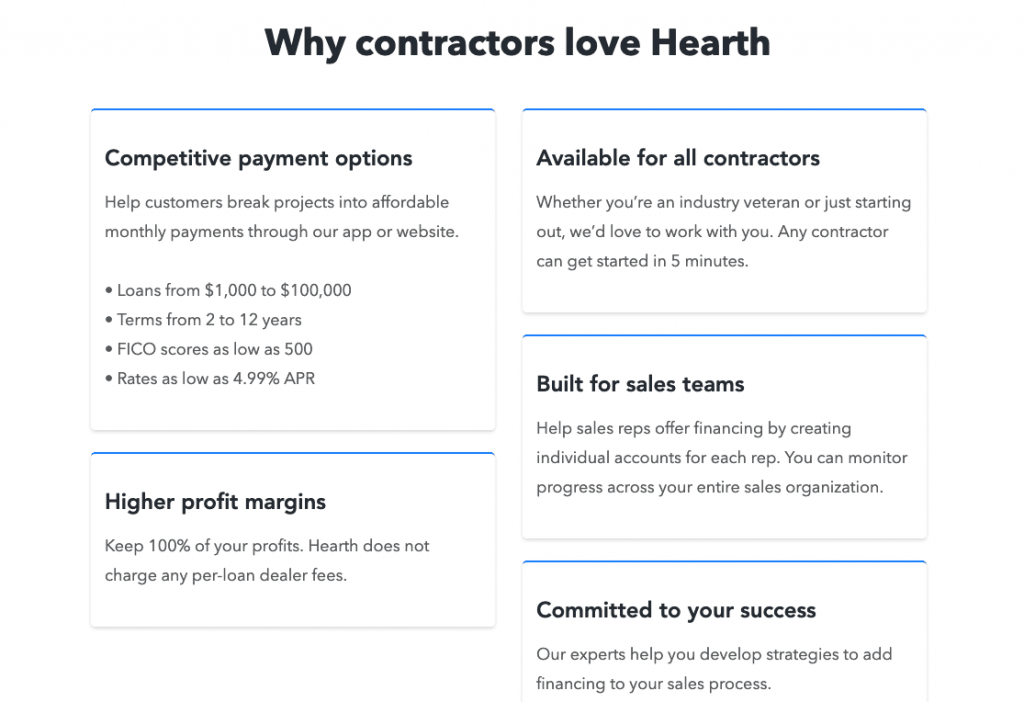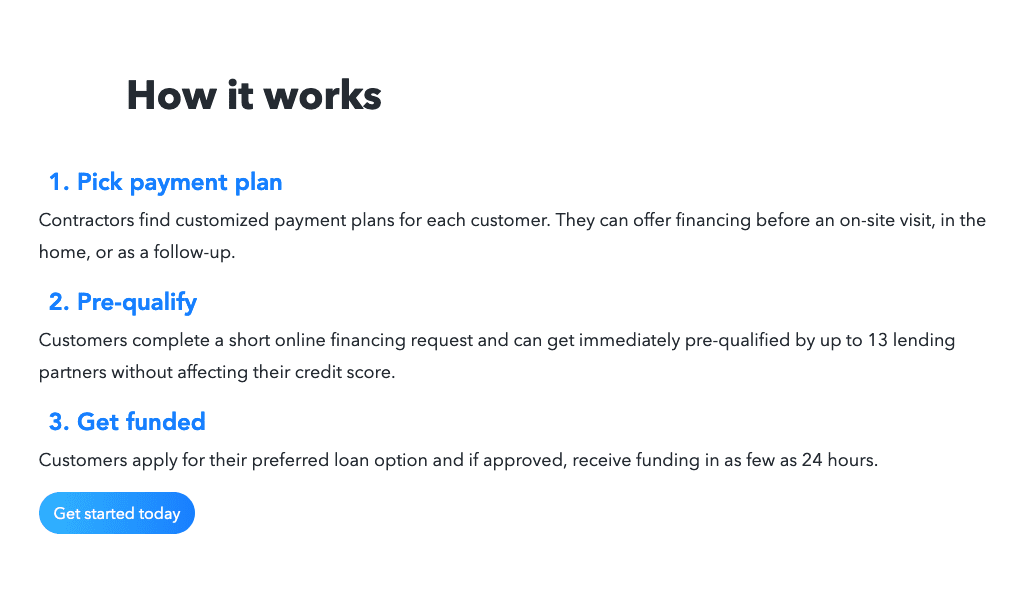 Hearth is a technology company, which is licensed as a broker as may be required by state law. Hearth does not accept applications for credit, does not make loans, and does not make credit decisions; this site does not constitute an offer or solicitation to lend. All insurance services are provided by Hearth Home Insurance Solutions, Inc. Hearth may be compensated by third-party advertisers. NMLS ID# 1628533 | NMLS Consumer Access.
All loan information is presented without warranty and estimated APR and other terms are not binding. Hearth's lending partners generally present a range of APRs (for instance, from 5% to 35.99%) with a range of terms and monthly payments. As an example, a $10,000 loan with an APR of 14.50% and a term of 36 months would have a monthly payment of $344.21. Actual APRs will depend on factors like credit score, loan amount, loan term, and credit history. Only borrowers with excellent credit will qualify for the lowest APRs. All loans are subject to credit review and approval.

512 686 4141