An urban tiny house pocket neighborhood is a dream come true for many in the movement. Not everyone can be a digital nomad. That's why proximity to jobs is still necessary for many tiny home dwellers. Most existing tiny house communities are rural or located in hybrid RV parks, not everyone's cup of tea.
When I first met Terry Lantrip, he was standing in a grassy, empty lot describing his vision for a one-of-a-kind community. He just emerged victorious from the approval of the zoning ordinance for his tiny house development in Lake Dallas, Texas, inside the Dallas-Fort Worth metro area. We met up as part of our documentation process for our documentary series, Living Tiny Legally, Part 3.
Now two years later, Terry is welcoming in the first several tiny homes into the Lake Dallas Tiny Home Village (LDTHV)—features a total of 13 landscaped lots, shared open space with firepit, a community garden, and a laundromat. Interestingly, American Tiny House, THIA Board Member Andrew Pleban's company, built a few of the first homes.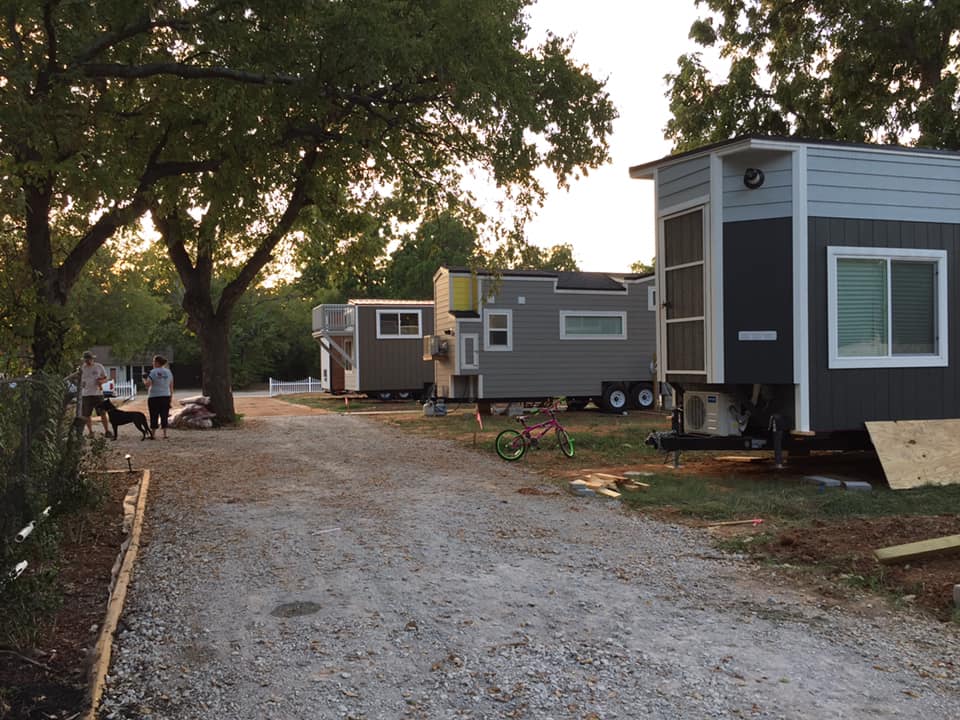 What makes this community development genuinely groundbreaking is that it is considered residential and intended only for moveable tiny houses, aka tiny houses on wheels— the first of its kind in the nation. It is not an old RV park, but a brand-new planned unit development within an existing neighborhood. Importantly, it is the first tiny house community to utilize the trailblazing Appendix Q—adopted for this specific use and amended to allow for moveable tiny houses. 
All tiny houses in the community must comply with this building standard, be tied down, and utilize fire-resistant skirting. Ever since the initial approval, the big question has been, "what will the inspection and permitting process entail?" 
The city of Lake Dallas has agreed to issue permits for tiny houses that pass inspections from a Texas third-party inspector, or those with a NOAH certification. Further, any RVIA certified movable tiny house will be required to go through the third-party inspection process to ensure it meets the Appendix Q, or reasonably meets the intent of the code. 
In the event a tiny home fails inspection, the owner could go through a variance process with the city's board of adjustments. It's a two-month process with a fee of $500 per variance.
To date, two tiny houses with LDTHV lot reservations are undergoing third-party inspections by His and Hers Inspection Services LLC. Both homes need to make minor modifications to comply with the code; they are expected to pass once these are made. Of note, inspection costs start at $350.
Additionally, the city of Lake Dallas requires city inspections for water and sewer connections ($75), and electrical connection ($75). This requirement could change in the future.
LDTHV offers a desirable opportunity for those looking for an urban living experience, with the benefits of a small town. The village itself will be within walking distance to the quaint Lake Dallas downtown, two parks, a tennis court, and the library. It's also only a short bike ride to lovely Lewisville Lake and marina.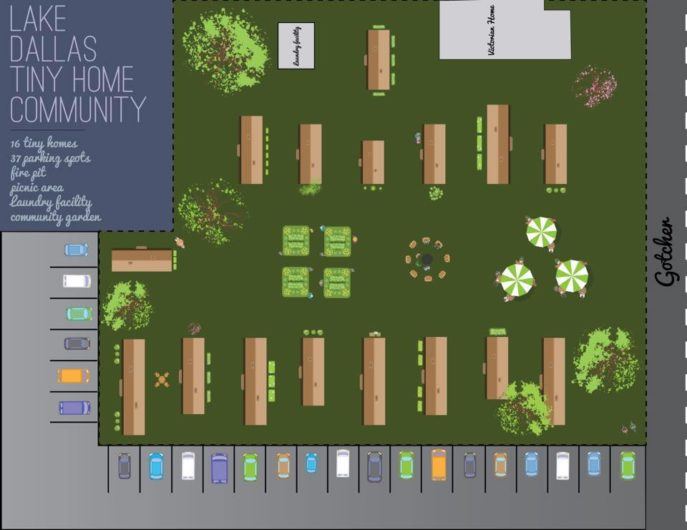 Of the 13 total lots, two are still available. Contact Terry Lantrip to learn more and make a reservation.
Lake Dallas Tiny Home Village Backstory
Terry Lantrip is a longtime, small real estate developer and investor with a deep love for Lake Dallas. He has worked for several years to revitalize the town through renovation projects and innovative residential developments. Back in 2016, he brought the idea of a tiny house village to the elected officials in Lake Dallas. His personal interest came to life when Lantrip attended Earth Day Texas, in Dallas, featuring tiny home display. 
At that time, he was looking for ideas for a one-acre site in the Lake Dallas Downtown District that also had a 1910 farmhouse on it. The property was the last acre of a large farm. The granddaughter of the original owner and farmer asked Lantrip to purchase the property when she was too old to maintain it, knowing that he would not tear down the house nor the large pecan trees on the property.
In late 2016, four of five Lake Dallas City Council members suggested Lantrip develop a complete plan and present it at a future council meeting for consideration. With the help of many in the DFW Tiny House Enthusiasts Meetup, led by Jet Regan and BA Norrgard, along with Civil Point Engineers, a complete plan was presented at numerous city meetings and public hearings. On October 27, 2017, the Lake Dallas Tiny Home Village was approved by a 4-1 vote by the Lake Dallas City Council.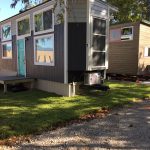 After approval, Lantrip and the team of volunteers from the tiny home community toiled on engineering and financing. Even with broad city official support, the development process proved incredibly challenging due to numerous roadblocks from a city manager, with an anti-development reputation. Fortunately, Lantrip was able to rally support to overcome each of these, sometimes enlisting the help of the media for additional public pressure. 
It ultimately took ten months, post-ordinance approval to receive his building permit, and even after the groundbreaking on February 9, 2019, it three long months to receive the site plan approval.
To hear an extended behind-the-scenes take on the development process, listen to Lantrip's recent Tiny House Lifestyle Podcast interview.  
Lake Dallas Tiny House Village is situated in an old neighborhood composed of small homes and small local business. During my visit in 2017, I was pleasantly surprised by the large size of the lot and the number of trees. The neighboring charming historic house now serves as Lantrip's office, but there are plans to turn it into a community clubhouse, as part of phase two of development. 
The first phase of LDTHV has 13 tiny house lots. It also features a laundromat, community garden, individual electric meters, and lot rent will include water, sewer, and trash service. Community rules, along with an FAQ, are available here.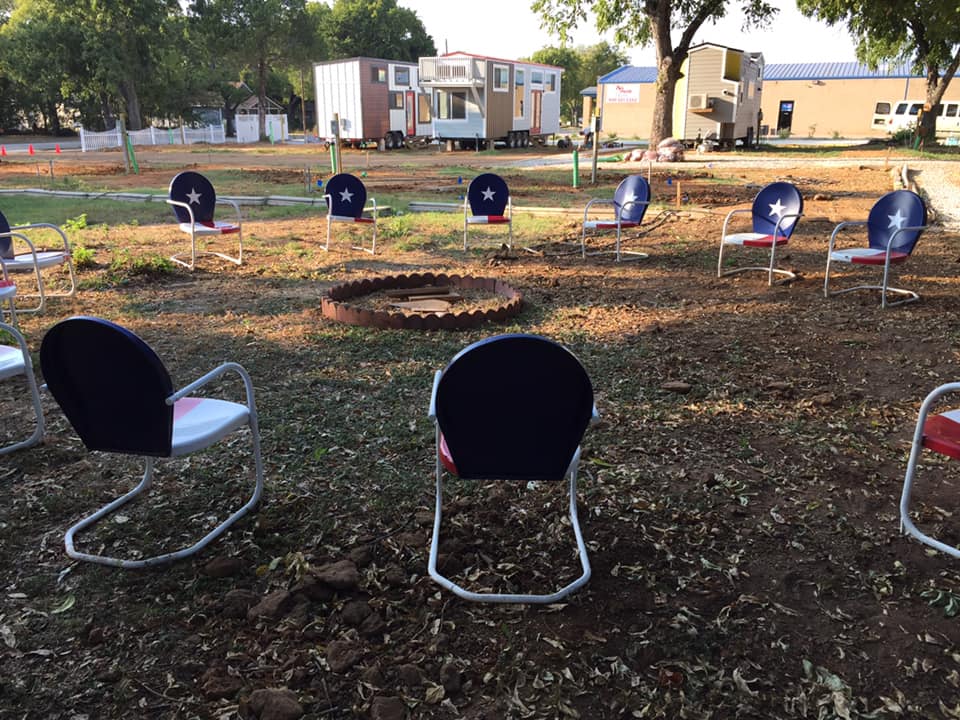 The layout of the community resembles a pocket neighborhood, very much in the style of Ross Chapin's developments. Nestled around a shared green space are the individual tiny house lots. Each is 800-900 square feet, which will allow for ample garden and yard space for each tiny house. Parking will be on the perimeter of the village to preserve overall community cohesion and aesthetic.
Contact Terry Lantrip to learn more about lot reservations and to hire him as a tiny house community development consultant.
References:
·      *Amended Ordinance 20190502-LD Ord Amending Tiny Home PD Ordinance-107709
·      *Amended Ordinance Ordinance 2017-14 Amending Zoning Ordinance Gotcher
·      Village development timeline proved by Taylor Premier Properties, real estate firm
·      Lake Dallas Tiny Home Village Facebook Group
*Note: Appendix Q was previously called Appendix V
Written by Alexis Stephens, THIA Board Member