We want to thank and welcome new THIA Commercial Member, Gold Heat. They are the leading custom manufacturer of electric radiant under-floor heat mats for tiny house and residential home builders, luxury motorcoach manufacturers and flooring professionals. Radiant floor heating is becoming more popular among tiny homeowners due to its space-saving and energy-efficient nature. Importantly, Gold Heat takes it up a notch with custom-designed solutions to fit any tiny house floorplan and engineered specifically for mobile applications.
"I wanted to make Gold Heat a customized electric radiant heat mat that would be "install-ready," right out of the box!"

— Ken Millard,

 Gold Heat Inventor
Radiant floor heat minimizes window and toilet condensation better than a typical forced-heat system. When you heat your floor, the floor retains the heat. Consequently, radiant floor heating keeps tiny house flooring material, subfloor, and under the structure warmer and drier.
Do you want to learn more about Gold Heat's innovative radiant floor heating?  Join them this weekend for a workshop hosted by Tinyhouse.com!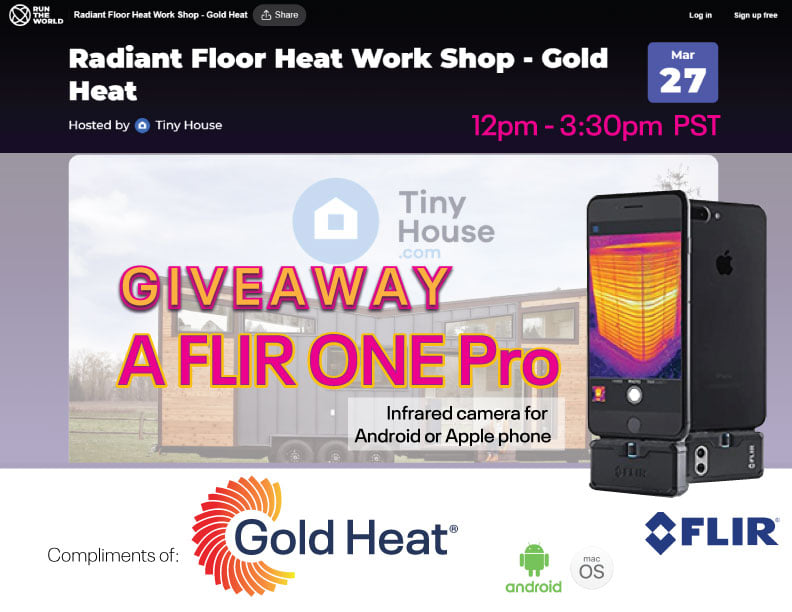 Join Gold Heat for Radiant Floor Workshop on March 27th to learn:
– a basic understanding of a homes Thermal Envelope
– how radiant floor heat solves a lot of the issues with tiny home heating
– how Gold Heat's custom radiant floor heat mats are revolutionizing the industry
– how to quickly install radiant floor heat