Global Tiny Home News
MUJI Debuts Latest Minimal Tiny Home Dec. 13th, 2019
Japanese homegoods brand MUJI recently announced its latest architectural feat, a tiny home named Yō no Ie House. MUJI has been experimenting with prefabricated tiny home design throughout the years, including the launch of a range of three tiny homes designed by famed industrial designers Naoto Fukasawa, Jasper Morrison and Konstantin Grcic back in 2017.
It Combines A Motorhome And An Apartment Oct.7th, 2019
Autonomous driving seems to be the future of motoring, and Germany's Erwin Hymer Group, a powerhouse in the motorhome industry, has the Galileo concept to imagine what an RV might be like when a steering wheel is no longer a necessary feature. It's a tiny apartment going down the highway.
Hymer imagines the Galileo as a modular vehicle. A flat chassis holds the electric powertrain, and the company would apply the body on top. According to the company, this layout would allow for more customization for the interior living area.
InFoGraphic Created By Calculator Me October 2nd, 2019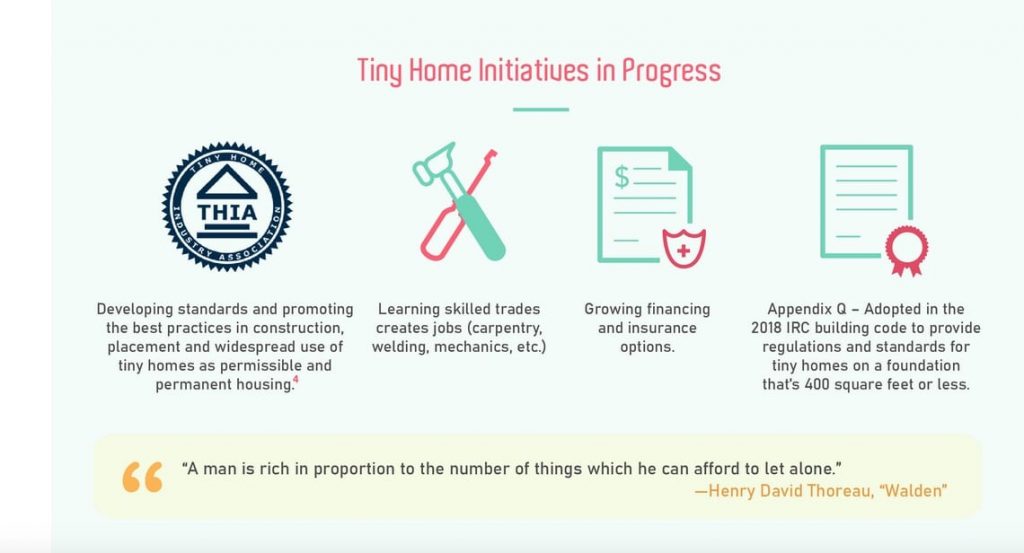 Today, living in tiny homes is made more possible through the efforts of organizations such as the American Tiny House Association (ATHA) and the Tiny Home Industry Association (THIA).
ATHA's goal is to support tiny house enthusiasts who are seeking creative and affordable housing as part of a more sustainable and self-reliant lifestyle. On the other hand, THIA's mission is to unify a movement by developing standards and promoting best practices in construction, placement and widespread use of tiny homes as permissible and permanent housing. They envision a world in which people are allowed to choose from a broader range of economical, ecologically responsible, safe and healthy housing solutions.
The smaller the better? Business builds on tiny living movement in SA Sept. 25th, 2019
n South Africa, Wanderlust Co. is leading the way by creating tiny movable homes, with environmentally friendly features and contemporary style
The tiny homes on wheels are built on a flatbed trailer and are between 15-30 square meters in size.
Bower says many South Africans may have to consider downsizing at some point in the future.
Wanderlust Co can create custom made tiny homes that offer built-in TV, wifi, solar power and water filtration system.
What a squeeze! World's skinniest dwelling named as one of the planet's most iconic houses Sept. 12th, 2019
Widely considered to be the narrowest dwelling in the world, a Warsaw address is back in the news after being included on a list of international projects honoured by the prestigious portal Iconic Houses.
Debuting in 2012, the Keret House was designed by Jakub Szczęsny after the acclaimed architect spotted a small "void" that was splitting two buildings.
MidCoast Council says 'tiny homes could be considered as another type of housing' Sept. 6th, 2019
Tiny homes will be considered in the mix of housing types as MidCoast Council prepares its housing strategy.
Other options could include tiny homes as people look for solutions as they increasingly struggle to enter the real estate market, struggle to find affordable rental properties, and struggle to access social housing in the MidCoast Council area. Council is currently preparing a housing strategy to determine housing needs and appropriate zonings for different housing types.
The first student Tiny village has opened in Saint Brieuc, France Sept. 2019
This month, September 2019, the "Ty Village" has open its door at 6 km from the nearby University of Saint Brieuc in the department of Bretagne. This is the first time students are given the opportunity to live Tiny while studying. Only five Tiny Houses are installed so far, but it's only a first step for this project since the municipalities gave its approval for the Ty Village to host up to 21 Tiny Houses.
This project made the best of the Tiny House's flexibility. During the summer break, college students go back to their parents' home to spend their vacation, leaving their accommodations empty. The Tiny Houses will then be moved to the nearby beaches, on camping fields, where they will welcome tourists. Thanks to this economical scheme, tourism is financing part of the investment for the Tiny Houses and decrease the monthly rents down to 460€ for the students. That level of rent is however higher rent than what  other students are paying to live in conventional apartment in the same campus which is between 320€ et 410€. However, the Ty Village had no difficulties to find people interested to move in for the peace of mind that the Tiny Houses were offering compared to the noisy shared nearby apartment.
Tiny homes could be the answer to resilience to natural disasters Sept. 13th, 2019
Tiny homes are becoming an increasingly popular lifestyle as housing affordability continues to bite. Now the first cyclone-rated tiny house has been unveiled in North Queensland and it's designers hope it could be a game changer in improving resilience to natural disasters.
Vancouver to consider allowing temporary modular housing throughout residential areas Sept. 10th, 2019
The motion, from Coun. Christine Boyle, would direct city staff to explore the possibility of building temporary modular housing in the lower-density residential neighborhoods that make up most of the city's land.
In the past two years, Vancouver has built just over 600 units of temporary modular housing, a relatively fast-to-erect and inexpensive kind of prefabricated building, mostly funded by the province.
Govt accused of tiny home hypocrisy Sept 12th, 2019
Tiny house owners are accusing the government of hypocrisy, amid fierce debate if their dwellings are legally vehicles or buildings.
While the Ministry of Business, Innovation and Employment (MBIE) insists tiny houses must comply with the building code and owners can't put their houses on wheels as a way of saving tens of thousands of dollars, it's ordered its own batch of emergency residential units on wheels.
Homeowners Roll up Their Sleeves on the Fiskars Tiny Home Tour Sept 9th, 2019
Fiskars offers a wide range of tools designed to help homeowners tackle DIY projects and around-the-house hacks. Showcasing the products in context is key, so the brand hit the road in June with a tiny home experience built for the creative consumer with partner Renegade Craft Fair, a curated marketplace of crafters and makers that hosts events across the country. The tiny home made its first stop at the Brooklyn Renegade Craft Fair, and will travel to Chicago this month and San Francisco and Los Angeles in November.
Mines students to compete in Solar Decathlon AFRICA  August 28th, 2019
This year is the first for Africa to put on a solar decathlon, and it is the first time for Mines students to compete in any solar decathlon. The U.S. Department of Energy's Solar Decathlon got its start in 2002 and has taken place biennially in various U.S. cities. It took place in Denver in 2017. Although Mines did not compete, students took their tiny home to display at the Sustainability Expo part of the Solar Decathlon in Denver.
A Portugal Of Pristine Beaches, Tiny Villages And Little Else August 28th, 2019
Everyone knows this can hardly last: rich people descending on a pristine rural community in search of their own piece of nature and solitude. But at least for the moment, Alentejo is a region of unparalleled beauty and authenticity.
Article Source The New York Times
Back from the brink of homelessness: The tiny houses making a big difference August 8th, 2019
The tradies followed soon after, and built a one-bedroom unit in the backyard of the family's Melbourne home. Sandi finally had a space of her own, and the specter of homelessness receded.
The Golden Girls Would Violate Zoning Laws August 1st, 2019
Some cities, like Minneapolis, have started making plans to reduce or eliminate the amount of land devoted to single-unit zoning. But other cities, like Plano, Tex. — where more than 4,000 residents have mobilized to overturn similar plans — have taken steps backward.
Article Source The New York Times
Hemp used for construction gains popularity in U.S. July 25th, 2019
Another challenge for builders is that hempcrete has not been incorporated into building codes, said John Patterson, a 30-year expert carpenter in Fort Collins, Colo., who constructs "tiny hemp houses."
This Tiny Traveling Bookstore Wanders the French Countryside July 25th, 2019
La Maison Qui Chemine (or "The Wandering House")
"I wanted a little feeling of a cabin and an aura of a small bookstore, which both evoke a lot of dreaming," says Fagué of the overall design.
Article Source Architecture Design
Sliding roof opens tiny house bedroom to the sun or stars July 23th, 2019
France's Optinid continues its line of novel tiny houses that feature sunroof-like sliding roofs with its Tiny House Franck. The recently-completed home can be opened up to the sun or stars when the weather's nice and also comes with underfloor heating installed for when it isn't.
Parasitic tiny house is installed on the roofs of city buildings  July 23rd, 2019
Casa Parásito (Parasite House), by El Sindicato Arquitectura, is the latest in a long line of parasitic architecture we've covered and offers an interesting take on tiny living. Rather than sitting on wheels like most tiny houses we come across, this model is installed on the roof of an existing inner-city building.
15 Tiny Homes and Shelters Revolutionizing Housing  July 21st, 2019
Video Source Design Technology Innovation
Airbnb: Economic Impact 100 Billion In 2018: July 21st, 2019
According to new survey findings and an analysis of internal data released in July, 2019, Airbnb's host and guest community generated over $100 billion in estimated direct economic impact across 30 countries in 2018 alone.
Article Source Tiny Portable Cedar Cabins
Community In Property: Lessons From Tiny Home Villages 2019
At less than 400 square feet per unit, tiny homes are a huge solution to these problems. Tiny homes can provide rapid and inexpensive shelter for the homeless, victims of natural disasters, and the hard-to-house.
Article Source Lisa T. Alexander
Northern Ireland's tiny house movement-a small move to the future? July 20th, 2019
In a statement, a Department for Infrastructure spokeswoman said "the planning process (for a tiny house) would need to be looked at on a case-by-case basis".
United Furniture sees high demand, will hire up to 500 July 19th, 2019
JACKSON, Miss. – United Furniture, a Mississippi-based upholstery and case goods manufacturer, will hire up to 500 employees across the U.S. – mainly at its production plants in California, North Carolina, and Mississippi. The company says it's seeing high demand for upholstered products.
The company is specifically looking for upholsterers, springers and frame builders, and other positions. Highly-experienced hires can make more than $25 an hour. A complete benefits package is also offered.
Article Source Woodworking Industry News
Are you ready to join the tiny house movement? July 19th, 2019
Ever wondered what it would be like to move lock, stock and barrel into a tiny home, like the ones on Netflix's Tiny House Nation?
Tiny-house building has become big news all over the world in recent years in response to rising house prices, steep mortgage repayments, unsustainable big houses and changing lifestyles, and Irish people are beginning to get increasingly curious about this way of life.
You can now sleep in these spaceship-inspired Airbnbs for just $11 a night and feel like a real astronaut Summer 2019
Airbnb is offering stays in five different spaceship-inspired homes for just $11 per night in honor of the anniversary of the Apollo 11 moon landing. Starting between 8 and 9 a.m. on the 20th, interested guests can book a selection of nights in August, September, October, and November at the discounted rate.
Tiny Houses: A New Real Estate Boom? July 11th, 2019
The tiny house movement is really taking off across America and it's making headway in Europe. There are some amazing tiny house designs out there, fully functional houses with many mod cons- just tiny versions that make great use of space.
Article Source Realty Biz News
Rural Airbnb Hosts in the U.S. Earned $316 Million in 2018 July 2nd, 2019
In the 10 years since Airbnb began in a San Francisco apartment, we have grown into a global community with hosts across more than 6 million listings in 191 countries and 100,000 cities, helping visitors reach urban and rural destinations alike.
n 2018, the number of guests traveling to those rural states increased by more than 60 percent year-over-year, helping hosts earn over $316 million. And with over 57,000 listings in those rural states, Airbnb helps accommodate guests where traditional lodging accommodations are few and far between.
Article Source Airbnb Newsroom
How tiny tubular homes could be a salvation for Hong Kong June 23th, 2019
James Law Cybertecture is seeking city approval to offer micro apartments made from concrete water pipes, called OPod Tube Housing. The firm has built a prototype for its tiny home approach by transforming a pipe that is 2.5 meters wide, or a little more than eight feet, into an apartment that spans 9.29 square meters, or about 30 square feet.
Studio Precht Designs Truncated Tiny-Home Treehouses for Baumbau June 21st, 2019
Bert is the first collaboration of Precht with Baumbau, a start-up that specialises on tiny homes, treehouses and buildings for alternative tourism. As Chris Prechtstated, "We took a playful look at this project and wanted to create a rather unique character than a conventional building.
The Morrison government wants to make tiny homes a bigger deal. June 16th, 2019
Industry Minister Karen Andrews, a self-described fan of tiny homes, says she wants to see the prefabricated building sector grow by $30 billion over the next five years. The sector currently makes up about three to five per cent of Australia's $150 billion construction industry, but Ms Andrews says it could grow to 15 per cent by 2025.
Article Source The Sydney Morning Herald
Electrician shortage creates potential for six-figure jobs June 7th, 2019
America's skills gap is creating challenges in the electricians' industry, which is expected to have a labor shortage Opens a New Window. of about 60,000 workers by 2026, according to one CEO of one tool manufacturing company.
Tiny house crowdfunding project helps vulnerable women in homeless hotspot June 5th, 2019
The latest Tiny Homes Foundation project comes just 12 months after the completion of its highly successful Australian-first pilot in Gosford, which now provides alternative housing for young people in their teens and early 20s, but this time it will be funded by public donations.
Cascadia's Five Most Important ADU Victories of 2018: January 11, 2019
At least 36 cities in Oregon and Washington updated rules in 2017 and 2018 to make it easier for homeowners to build backyard cottages, basement apartments, and mother-in-law suites.
Article Source Sightline Institute
The Australians who pioneered self-sufficiency, generations before Nimbin January 1st, 2019
The term "self-sufficiency" commonly evokes images of communes, yurts and 1970s hippies, most likely living off the land in northern New South Wales. More recently, it has been linked to an explosion of interest in solar powered "off-grid" living, tiny houses, ethical food networks and complementary health practices, along with a hipster-driven return to the artisanal and hand-made.
But these are just a small part of a much larger story. Australians have, in fact, dreamt of going back-to-the-land since the latter part of the 19th century. Those who embraced an ethic of self-sufficiency included anarchists, suffragists seeking opportunities for unemployed women, Catholic agrarians wanting to nurture both the soul and the soil, and a grassroots collection of organic farmers trying to bring attention to "Mother Earth".
Trading Pencils for Hammers: These Kids Are Learning Math and Getting Jobs Right Out of High School May 2nd, 2019
Hendrickson High School is one of more than 500 schools in the United States that currently offers a curriculum called Geometry in Construction, designed by the company Contextual Learning Concepts.
Students learn math by building a tiny home with tools and materials. The first year the school funds the project, and after that, the program is self-sustained by selling the homes.
Home sweet tiny home: could you live in a micro house? April 27th, 2019
"Tiny living is part of a social movement that is taking place to live more simply and to just have less stuff," says the aptly named Zoe Little, founder of Koto, a UK designer and builder of Scandinavian style cabins.
Article Source The Irish Times
When People Move Into Tiny Homes, They Adopt Greener Lifestyles April 10th, 2019
Interest is surging in tiny homes—livable dwelling units that typically measure under 400 square feet. Much of this interest is driven by media coverage that claims that living in tiny homes is good for the planet.
Article Source City Lab written by Dr. Tiny Maria Saxton
What a beautiful tiny house in rural Japan can teach us about the health of cities March 20th, 2019
The heart of Yoshino resides in a narrow, A-frame house along the banks of a mighty river. Yoshino Cedar House is an extraordinary, community-run Airbnb that has drawn international visitors to the remote village in Nara, Japan since it opened in 2017.
By virtue of its architecture and management, the guest house also serves as the de facto headquarters for the beleaguered town's campaign for survival.
4 Badass Women In The Tiny House Community May 6th, 2018
I found a certain bigness in my little house–a sense of largeness, freedom, and happiness that comes when you see there's no place else you'd rather be."
– Dee Williams, The Big Tiny
Article Source Extraordinary Existences
Rural women in India, elderly in Japan open their homes to Airbnb guests  January 8th, 2018
MUMBAI (Thomson Reuters Foundation) – Mobile apps that help women in the Indian countryside and tiny villages in Japan to open their homes to visitors from across the world are generating incomes, revitalizing remote communities and helping to curb migration to cities.
A year in, the number of women earning from home sharing has doubled, according to the Self Employed Women's Association (SEWA), which has about 2 million members, mostly in villages.