Colorado Tiny Home News
Denver Nonprofit Buys Hotel, Transforms It Into 139 Mini-Apartments for the Homeless Feb. 3rd, 2020
Rooms are available for people who come in from shelters across the city or even directly off the streets.
In Denver, Colorado, the problem has grown in pace with national trends, with one local study showing that at least 5,755 homeless people reside in the Mile High City.
So when a Quality Inn and Suites located on a major road went up for sale, the president of the Colorado Coalition for the Homeless (CCH) saw the perfect opportunity to turn the former hotel into a place where unhoused residents could rebuild their lives.
John Parvensky, who has headed the local nonprofit organization since 1985, purchased the 139-room hotel for $8.4 million using a combination of private, state, and city funds before renovating the property and renaming it Fusion Studios. The building is the 17th of its kind that he has opened in the 30-plus years he's been working on the issue.
Article Source The Mind Unleashed
Boulder set to pass new tiny home regulations, but they won't change much Jan. 17th, 2020
Boulder city council on Tuesday will (likely) vote to adopt updated building codes. The new standards will mostly focus on sustainability, but tucked away in the dozens of pages on construction waste and fire suppression systems is the first-ever set of regulations to deal with tiny homes.
America in recent years has become fascinated with the minuscule dwellings, typically defined as structures under 400 square feet. The new rules, known as Appendix Q, are being incorporated into city and state codes throughout the United States, theoretically paving the way to make tiny houses legal across the country.
'Transformational Housing': Beloved Community Village Adds More Tiny Homes Dec. 12th, 2019
DENVER (CBS4)– Volunteers and construction workers made progress Thursday on eight new tiny homes, which join a community of 11 existing houses in the Beloved Community Village. Whiting Turner Contracting and the Colorado Village Collaborative teamed up with volunteers to add these homes and a community center in the village.
The homes under construction will nearly double the size of the village, adding to the original set that were moved to that location in North Denver. Each house is approximately 70 square feet and tenants do not need to pay rent.
Town hall on Accessory Dwelling Units in Colorado Springs set for Wednesday Dec. 4th, 2019
The second of two Accessory Dwelling Units town halls is scheduled Wednesday at Colorado Springs City Hall from 6 to 7:30 p.m., according to a news release from the city.
Accessory Dwelling Units are secondary living areas on a residential lot or within the main home. ADUs are often referred to as ancillary apartments, mother-in-law suites or cottages, granny flats, or guesthouses. These residential units are smaller than the main home and include a sleeping area, sanitary facilities, and gas/electrical facilities for cooking. Accessory Dwelling Units can come in a number of forms.
Boulder Council OKs ADU rule update; structures won't be allowed on same lots as co-ops Dec. 3rd, 2019

Boulder City Council members unanimously approved a consent agenda on Tuesday that included updated regulations of accessory dwelling units.
The approved first reading of the changes to accessory dwelling units sided with a recommendation made by city staff and against that of the Boulder Planning Board. City staff suggested prohibiting cooperative housing units and accessory dwelling units from being located on the same lot. The Planning Board asked the Council to adopt regulations that would allow the two types of residences on the same lot.
The changes aim to update and clean up existing regulations and will allow for modification of roof-pitch ratio standards, ease architectural design requirements for existing structures being converted to accessory dwelling units and apply them to new construction only, and clarify occupancy standards. The most notable change is that the ordinance would add language to forbid co-op housing and accessory dwelling units on the same lot.
ADUs come slowly to Denver in absence of sweeping policy changes Nov. 13th, 2019
The number of accessory dwelling units has slowly increased in Denver, with 58 new permits issued last year and even more in 2019.
The Colorado Sun reports that homeowners are drawn to ADUs for a number of reasons: to create another stream of income, to provide a living space for elderly family members, and to have another asset to pass on to children, among others.
Article Source Colorado Politics
Denver Public Forum: Code Changes Oct. 11th, 2019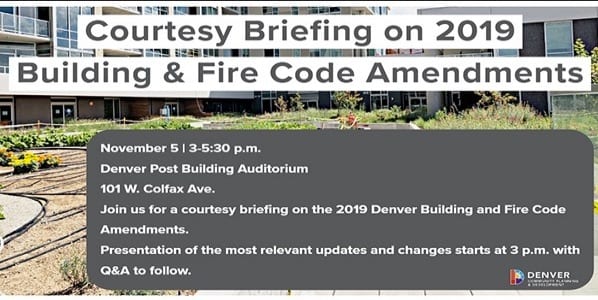 Denver, Colorado is in in their building code cycle change to include the 2018 IRC and  Appendix Q Tiny Houses has been included in Denver's proposed code changes and is in progress. There will be a public forum on Nov. 5th, 2019 from 3 to 5:30 pm that will be a courtesy briefing on all the code changes, including Appendix Q. There will be a window of time that will be announced after the meeting.
Denver Approves Tiny Home Zoning Change: 'Help Find A Solution To This Housing Crisis'  Oct. 8th, 2019
DENVER (CBS4) – While there won't be one solution to solving homelessness, the Denver City Council is hoping a change in zoning can help more tiny home villages sprout across the city.
"Our ultimate goal is to help people get housing and live in dignity and that supports their growth," said Tonya Salih, co-director of Colorado Village Collaborative.
The Beloved Community Village contentiously moved on city property in the Globeville neighborhood a few months ago. They've seen several people graduate through into permanent housing.
Denver to welcome temporary tiny home villages Oct. 7th, 2019
DENVER — The Denver City Council voted Monday night to approve changes to the city's zoning code to help welcome temporary tiny home villages hoping to use vacant land to help address homelessness, according to a news release from the city.
The city voted to approve the Beloved Community Village in April. According to the release, it was Denver's first temporary tiny home village, and is a successful pilot of using tiny homes to help vulnerable or marginalized residents aiming to find permanent homes.
Renters Only: These New Homes Aren't For Sale  October 7th, 2019
A different sort of American dream is under construction outside Denver. More than 130 homes are being framed and nail-gunned together. But there won't be any real estate agents staging open houses. Instead of homeownership, this development is all about home-rentership.
"We got started in around 2010 after the housing crash and people were losing their homes," says Josh Hartmann, the CEO of NexMetro Communities, the company building these homes.
Denver to vote on tiny home village rules  Oct. 6th, 2019
Denver's tiny home villages for homeless communities are seen as such a success by some council members that now, one is proposing putting rules on the books to allow more in the city.
The proposal has been drafted by Councilwoman Robin Kniech and the vote will be on Monday.
A tiny home village is a community of tiny houses that is fairly inexpensive for the city to fund and used to help get people experiencing homelessness into temporary housing.
Right now, Colorado has one village called Beloved Community Village in Globeville.
City of Denver code has it permitted as "Unlisted Temporary Use," which, to advocates of these tiny homes, is a problem.
Longmont City Council to review accessory dwelling unit regulations Sept. 30th, 2019

Longmont current regulations about accessory dwelling units — a separate residential dwelling on the same lot as the principal single-family detached home on that lot — are scheduled for City Council discussion on Tuesday night.
Council directed city staff in July to schedule a review of the city's Land Development Code provisions about accessory dwelling units — commonly called ADUs — which are now an allowed use, under certain conditions, in most of the city's residential zoning districts and the downtown mixed-use zoning district.
Longmont's Accessory Dwelling Units web page — tinyurl.com/y5z2j9gw — says a unit is defined as "a second dwelling, either within or added to an existing single-family home, or in a separate accessory structure on the same property as the main home, for use as a complete, independent living facility …"
Councilman Aaron Brockett: To create Boulder's future, look to its present Sept. 28th, 2019
What he'd like to do with his second: Creating policy to allow tiny homes in Boulder, perhaps as ADUs; securing more funding for the library; transportation (specifically bus rapid transit on East Arapahoe); affordable housing, including a mix of market-affordable and government-subsidized, as well as preserving existing housing; arts and culture support (specifically relaxing Boulder's regulations on "what goes where"); social justice; small business support
Winter Park moving forward with affordable, workforce housing project Sept. 19th, 2019
The $18 million development would go in on 1.9 acres on Kings Crossing Drive, next to Silverado II. Per the town's request, the development is geared toward local workforce and some units will likely require tenants to work in the Fraser Valley.
All of the designs and details for the project are preliminary right now, as the development would need to go through the planning commission and get council's approval, but right now Potter and his team are proposing 62 units at 40 to 60% of the area median income (AMI) and 20 units at 100% AMI.
Tiny Home Venture In Woodland Park Scores Narrow Victory In Marathon Hearing Sept. 17th, 2019
The heated battle between the opponents of the manufactured home project, known as the Village at Tamarac, and the developers, went before the city's Board of Adjustment (BOA) group. After an emotional back and forth, which lasted more than six hours between the two parties, the board affirmed the developer's right to proceed with the project.
But Woodland Park Planning Director Sally Riley staunchly disagreed with this assessment. She offered a defense of the city's approval of the project and rebutted many of the points made by the project opponents. Riley cleared up the issue of the definition of a manufactured home by stating the difference between a mobile home and a manufactured home. She said that a mobile home is certified by Housing and Urban Development (HUD). But the major difference exist in the fact that a manufactured home is also certified by the International Building Code (IRC) to abide by higher standards than a mobile home. More specifically, a manufactured home is required to be installed on a permanent foundation, not on a chassis like a traditional mobile home.
Article Source The Mountain Jackpot News
New state law brings hope to Colorado's mobile home residents Sept. 17th, 2019
Boulder led the way to protect 'vulnerable families' Mobile homes, and the parks that contain many of them, stretch all across the state. But this type of affordable housing has been watched with particular interest in Boulder, where both the city and county have sought measures to protect and maintain mobile-home parks.
That became HB 1309.
"There was a convergence," Rep. Hooton said. "The impetus was there for a long time, but now the political makeup of the chamber of the Legislature has changed to make this more possible. … This sunrise report helped define clearly at least the first thing that needed to be done, and that was to have enforcement provisions for the Mobile Home Park Act passed in 1985 – and never enforced."
Article Source The Durango Herald
Milner tiny home community a step away from reality as final approval vote slated for end of month Sept. 12th, 2019
STEAMBOAT SPRINGS — In a unanimous vote, the Routt County Planning Commission during its September meeting gave its final approval to what would be the first tiny home development in an unincorporated part of the county.
Under the plan, six homes, ranging from 200 to 260 square feet, would be built in unincorporated Milner, just off U.S. Highway 40, about 10 miles west of Steamboat Springs.
Article Source Steamboat Pilot
Denver hotel could soon be turned in affordable housing in Northeast Park Hill Sept. 10th, 2019
DENVER — Complicated problems often require creative solutions, and Denver's homeless population is no exception.
"We're seeing an increase in homelessness, across the board," said Cathy Alderman with the Colorado Coalition for the Homeless. "You don't have to go very far to see that this problem is exacerbating in Denver. It's time that we need to really do something about it quickly."
The coalition is answering the need for more housing with a clever solution. It plans to convert the Quality Inn & Suites at E. 36th Ave. and Quebec St. into 139 micro-affordable housing units in Denver's Park Hill neighborhood.
Article Source The Denver Channel
Grand Junction, Basalt, Denver projects among those awarded combined $10.4M in state housing grants this summer Sept.4th, 2019

The Colorado Division of Housing last week released a list of projects that it approved for a combined $10.4 million in state Housing Development Grant Funds in July and August.
The money — drawn from a pot earmarked for supporting work that improves, preserves or expands the supply of affordable housing in the state — will benefit the following efforts, according to a news release:
Article Source The Denver Post
New affordable housing neighborhood coming to Buena Vista  Sept. 4th, 2019
BUENA VISTA, Colo. — Like many towns in Colorado, homes in Buena Vista can be expensive, often costing more than a half-million dollars. That's more money than most people who live there can afford.
"A lot of the big employers here have employees who drive an hour and a half to work every day because they can't afford housing in the community they work in," said Charlie Chupp, the CEO of Fading West Development.
Colorado's Tiny House Movement, Communities and Resources Galore
The tiny house movement in Colorado is booming. Despite limited legal parking opportunities for tiny homes on wheels. But that is changing in a big way, thanks to community developers and local advocates. Their efforts have been aided by all the positive press about the last few years' exuberant festivals, from the first Tiny House Jamboree to the annual Colorado Tiny House Festival and the People's Tiny House Festival.
Several smaller events and the gorgeous WeeCasa hotel have added to the growing tiny buzz. The roster of Colorado-based tiny home builders is ever-growing—there are over 24 to choose from! DIY building options are plentiful, as well. The Denver metro is home to TrailerMade Trailers, Einstyne Tiny Homes (tiny house shell specialists) and DIY build sites are available from Tiny Home Connection and Colorado Custom Coachworks.
Public Comments Welcomed: Pagosa Springs, Co Sept 5th
Colorado Appendix Q News : Archuleta County Public Meeting Of The Commissioners Adopting 2015 and Appendix Q : Public Welcome Sept 5th,
2019 at 8:30 Am at Archuleta County Administration Office
398 Lewis St, Pagosa Springs, CO 81147
Details Call Mary 907 264 8308 / They welcome written comments before the meeting; Send to mHelminski@archuletacounty.org
Controversial Tiny Home Project Hits Roadblock August 29th, 2019
Although the board okayed the project, they imposed much more stringent conditions that those recommended by the city staff. In fact, some insiders now question if the development will ever get built, or speculate that the issue will be headed to court. Last week marked the first of several appeals mounted against the proposed housing project.
Article Source The Mountain Jackpot News
Colorado nonprofit looks to tiny homes to help homeless vets August 26th, 2019
Robertson wants to help veterans like Alvira Concepcion get back on their feet, that includes housing. But they're looking to do that a little differently. He wants to put them in tiny homes.
Article Source The Denver Channel
Denver Closing In on Approving Zoning Codes for Tiny Home Villages August 8th, 2019
On Wednesday, August 7, the Denver Planning Board approved an addition to the city's zoning code that would allow for temporary tiny home villages. If approved by city council, the final arbiter, later this month, the changes would ease construction for the villages in Denver, which proponents say would help chip away at homelessness.
McMillin: Why Denver's tiny home village dream can't be dismissed as just another fad gone bad June 30th, 2019

So, as a public hearing on proposed zoning code changes regarding temporary tiny home villages looms before the Denver Planning Board, I dug into the subject. If approved, the changes could open the door to the creation of villages in commercial, mixed-use and industrial areas or where there is an existing public or civic use.
Article Source The Denver Post
Tiny-home villages could be allowed across much of Denver July 29th, 2019

She is proposing that the city change its rules to allow tiny-home villages on far more properties. The change could make it much easier and simpler to build the low-cost housing communities in Denver.
Article Source The Denver Post
Tiny-home villages could be allowed across much of Denver July 24th, 2019

Now, that may change: Denver Councilwoman at-large Robin Kniech wants to allow villages to be built across more of the city and for longer periods of time.
Article Source The Denver Post
Phase 1 of newly approved Silt tiny home community is a go July 17th, 2019
Danson said his business partner, Nielsen, who owns the KOA Campground at Silt, came up with the design and is the architect of the planned community.On Tuesday morning, Tiny Homes at River Run will start taking deposits for the first 13 sites and living units.
Article Source Post Independent 
Updated: Developer of Village at Tamarac modular-home community refutes objections July 18th, 2019
The developer of a 53-unit Woodland Park modular small-home community, Village at Tamarac, said it is intended to be a response to a housing need.
Tiny homes as affordable and alternative housing gain in popularity. Colorado is at the forefront of the movement July 11th, 2019
The state has over 20 builders who are constructing more than one tiny home unit at a time, and over 40 companies that have built at least one tiny home. On tiny home websites, other states with a growing number of manufacturers include Oregon, Washington and Texas.
Article Source The Denver Post
Colorado's Tiny House Festival Is Here, and It's Not Tiny June 21st, 2019
Colorado is ideal for people living the tiny lifestyle," says Art Laubach, the festival's organizer and founder of the Colorado Tiny House Association.
Colorado Springs officials call 'densification' fears overblown July 7th, 2019
The Colorado Springs City Council is cautiously considering a proposal that would allow the construction of accessory dwelling units in predominantly single-family residential areas, often called 'densification.
Tiny Home Villages Getting Home in Denver Zoning Code This Fall June 6th, 2019
Tiny home villages are months away from finally getting their own home in the Denver zoning code.
It's Moving Day For Denver's Tiny Home Village May 13th, 2019
Denver's tiny home village on Monday began the move to its new location in Globeville, a neighborhood in north Denver.
Despite Opposition From Neighbors, Tiny Home Village Moving to Globeville April 30th, 2019
On Monday, April 29, Denver City Council unanimously approved the relocation of the Beloved Community Village to a city-owned plot of land in Globeville at 4400 Pearl Street two weeks before residents must move from their current village in RiNo.
Fountain exploring zoning rules for tiny homes, short-term rentals Feb 20th, 2019
Fountain officials are considering adopting zoning rules for tiny houses and short-term rentals, such as those advertised through Airbnb and other properties that residents rent out for less than 30 days at a time.
Tiny houses, which are typically considered less than 400 square feet and mounted on trailers, are allowed in campgrounds in Fountain, and the City Council can grant a special use if a resident wants to put one in a mobile home park, Fountain Planning Supervisor Kristy Martinez said.
Tiny Homes In Lyons, Colorado July 7th, 2019
The journey to legalize tiny homes on wheels  in Lyons, Colorado was a three year journey.  We  need to thank Byron Fears, owner of SimBLISSity Tiny Homes for being on the forefront of this  battle. Byron Fears is the Director Of Communications for the Tiny Home Industry Association ( THIA ).
I want to chronicle this  journey that has helped the entire tiny home industry.
Chuck Ballard, President of Pacific West Associates and Director of Standards for THIA was also instrumental in legalizing tiny homes in Lyons, Colorado.
Article Source Tiny Home Industry Association
First "tiny home" comes to Glenwood Springs May 4th, 2018
Hideout Creekside Village was once part of the Midland Railroad, where coal was transported from the Sunlight Mine down to the county road now known as Midland Avenue in Glenwood Springs and onto the main rail line. 
.Hideout Cabins & Tiny Home Community owners Beau Haines and Zach Frischand 18 months ago decided to make their "dual vision" a reality by spearheading a plan to build a series of tiny homes in what is now a close-knit RV park.
Article  Source The Denver Post 
Colorado's Tiny Home Owners and Builders Talk Pros and Cons of Living Small July 25th, 2017
Co-owner of SimBLISSity Tiny Homes, Byron Fears, compared the '60s blue jeans fad to the tiny homes fad today. According to him, they're here to stay.
"The Great American Dream of the three bedroom house with a two car garage was proven to be unsustainable during the past recession," Fears said. "The current economy is proving that the hopes of home ownership is beyond the reach of most working class people."
La Plata County building codes to take on tiny house provisions Feb 19th, 2017
Last month, the building department and county commissioners discussed plans to replace outdated county building codes with more current standards as well as upgrade energy efficiency standards tentatively sometime this year. The county's new regulations will include the new international building appendix for tiny houses.