Established as Part of a New Vision for California City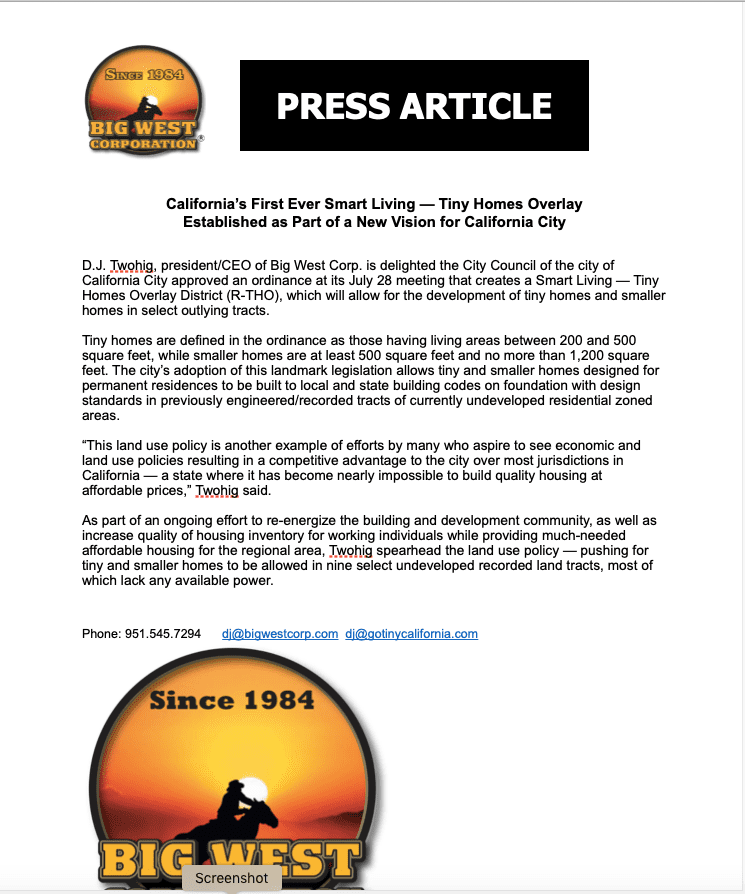 Entire Press Release
California City, California City Council Meeting August 11th, 2020: 6 PM
On Tonight's Agenda: Give second reading, by title only and adopt "ORDINANCE NO. 20-779 OF THE CITY COUNCIL OF CALIFORNIA CITY, CALIFORNIA ADDING A NEW ARTICLE 24.5 TO TITLE 9, CHAPTER 2 -ZONING OF THE CITY MUNICIPAL CODE TO CREATE AN OVERLAY ZONE FOR TINY AND SMALL HOMES IN SPECIFIED TRACTS WITHIN THE CITY"
California City, California City Council Agenda August 11th, 2020
Related: California City, Ca. Approves Tiny Units On Single-Family Lots
Dan Fitzpatrick, THIA President reports great news from California City, CA   Tiny units permitted on single-family lots!!
Statement From Dan Fitzpatrick, President Of THIA
California City, City Council, approved Tiny Homes as units that can be placed on foundations on single-family lots in designated areas of the city.  The chief building official will accept movable tiny homes that meet the requirements of the ordinance if placed on a city-approved foundation and provisions made for water and sewer.  All such units must have fire sprinklers and must be at least 200 sq. ft. in size.
The Tiny Home Industry Association (THIA) has spent many months working with city officials on this tiny friendly ordinance.  We are very pleased with the city's approval.
California City, Ca. Approves Tiny Units On Single-Family Lots