Effective Date January 1st, 2020
Effective Date and Application of the 2019 California Building Standards Code January 1, 2020 is the statewide effective date established by the California Building Standards Commission (CBSC) for the 2019 California Building Standards Code. In accordance with California Health and Safety Code, Section 18938.5, all applications for a building permit submitted on or after January 1, 2020 are subject to compliance with the 2019 California Building Standards Code. CBSC Information Bulletin 19-03 issued May 23, 2019 provides valuable information relative to permit issuance and the time duration of permits.
The 2016 California Building Standards Code remains in effect and is applicable to all plans and specifications for, and to construction performed where the application for a building permit is received on or before December 31, 2019.
BSC Bulletin 19-04-FINAL-ACC (2)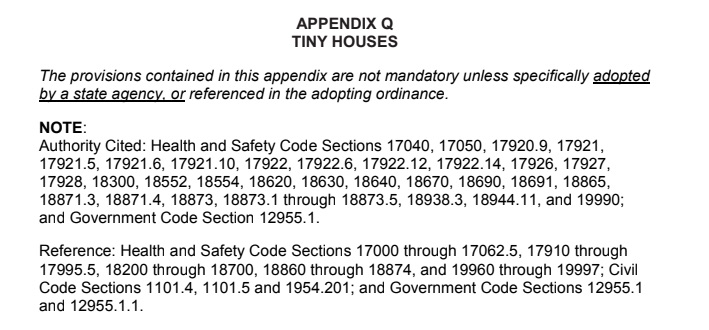 Page 90 2019 CRC FET 11-2-18
California Building Standards Commission Bulletin
BSC Bulletin 19-04-FINAL-ACC (2)
Dan Fitzpatrick, President of THIA, and Director of Government Standards of ATHA was one of the key proponents of Appendix Q: Statement on June 12th, 2019.
California Building Code Update – Appendix Q Tiny Houses: In recent discussions and emails with key staff of CA Department of Housing and Community Development (HCD), we have confirmed the following:
1) HCD has adopted the provisions of Appendix Q which will make its provisions MANDATORY across all local government jurisdictions.
2) We were able to confirm with HCD, that factory-built housing (FBH) next year can be built to CA Residential Code standards, inclusive of Appendix Q, (for units 400 sq. ft. or less).
3) Such FBH units built using Appendix Q standards would be permitted anywhere is California, subject of course to zoning codes.
4) The California building code update will go into effect January 1, 2020.
BACKGROUND: For the past several months we have been quietly working with California Department of Housing and Community Development (HCD) and the Governor's Office of Planning and Research (OPR) to ensure that provisions of the 2018 International Residential Code, including our tiny house Appendix Q code provisions, were properly implemented into the California Residential Code. Our concern was that we wanted Appendix Q code items for tiny homes to be, not only adopted by the state, but made MANDATORY in all of the 540 local government jurisdictions. In past California code update cycles, the various Appendices were left as local option.
Why is this important? One can only imagine the effort it would take to convince 540 cities and counties to adopt Appendix Q – a task which would take years to accomplish. Also, if Appendix Q provisions were not adopted across the board for all of California, it would be virtually impossible to factory build tiny house units for wide distribution.
A special shout out to Martin Hammer for, not only his work with Andrew Morrison in writing Appendix Q, but his efforts to stay on top of state bureaucrats to implement it properly in California.
Thank you Dan and all advocates that made this possible.